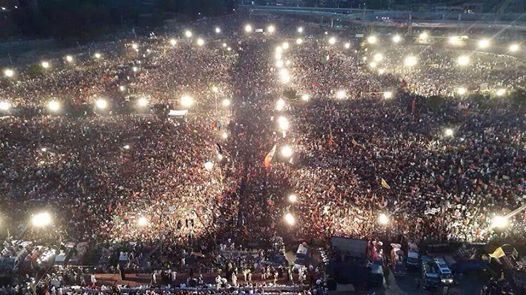 Pakistan Tehreek-e-Insaf demonstrated a strong show of strength at Minar-e-Pakistan Lahore, as thousands of party supporters and workers from all over the country gathered at the Greater Iqbal Park in support of the formidable PTI leader, Imran Khan.
Senior party leaders Chief Minister Khyber Pakhtunkha Pervaiz Khattak, former Punjab governor Ch Sarwar, Senator Faisal Javed, MNA Shireen Mazari, PTI Balochistan President Sardar Yar Mohammad Rind, KP Speaker Asad Qaiser, Fawad Chaudhry and others attended the rally. The Jalsa started with a National Anthem, and Imran told the audience about the 11 point agenda for a "Naya Pakistan".
As usual there were an incredible amount of people who could not make it to the Jalsa but made their presence prominent on Twitter following the Hashtag trend #PTIMinarePakistanJalsa.
We took out few of the most accurate ones that would make you fall in love with either Imran Khan, or the people twitting. Here are some of them.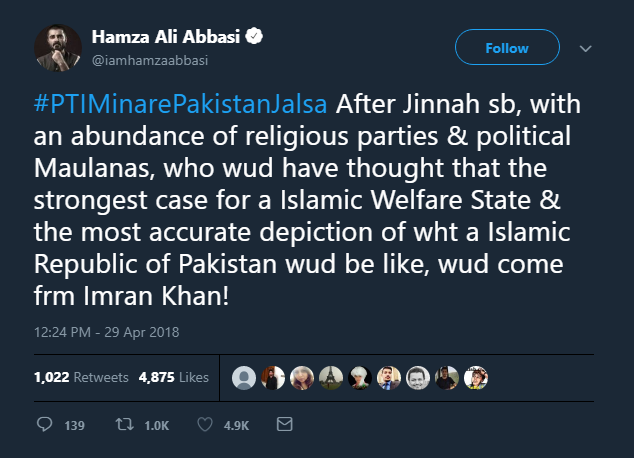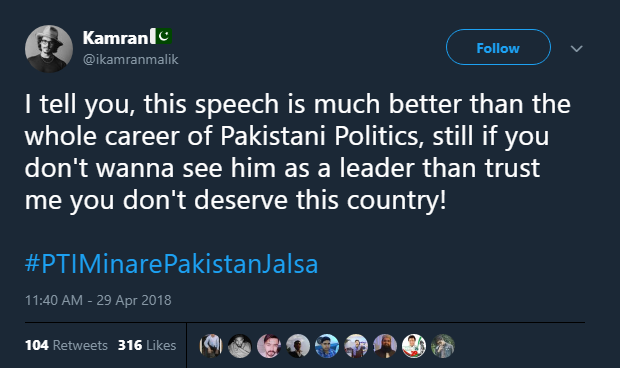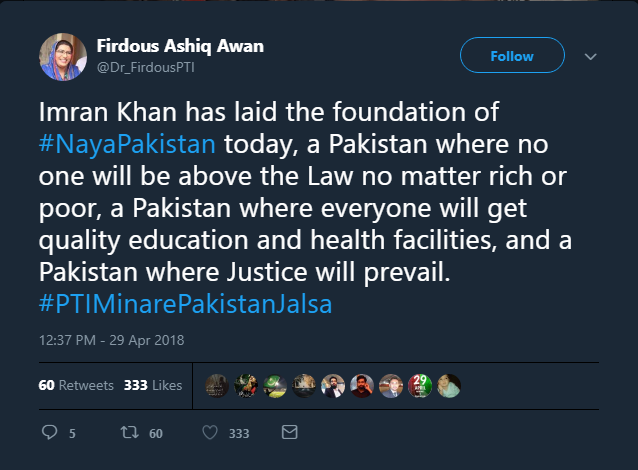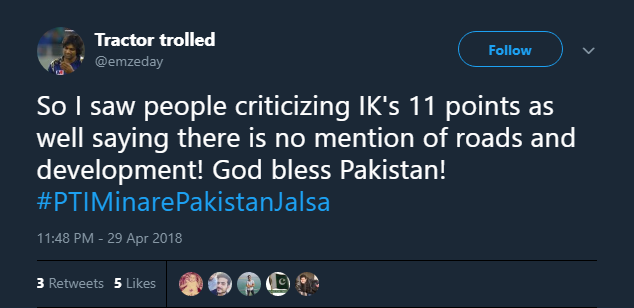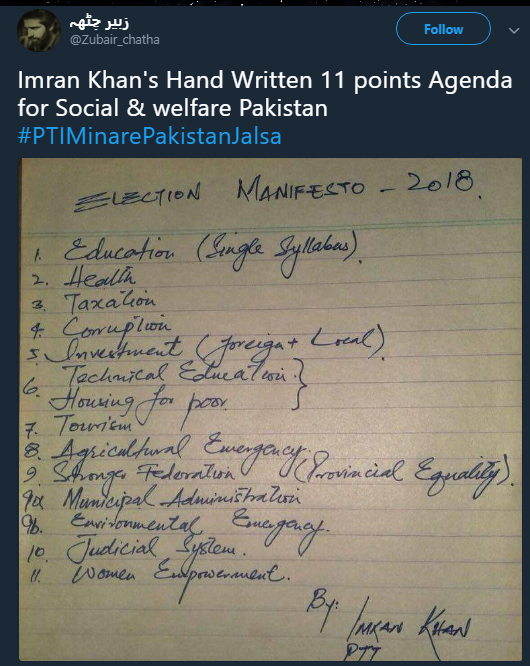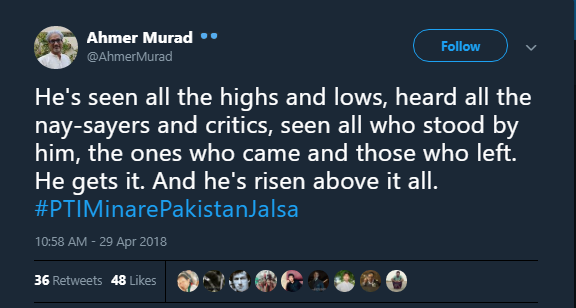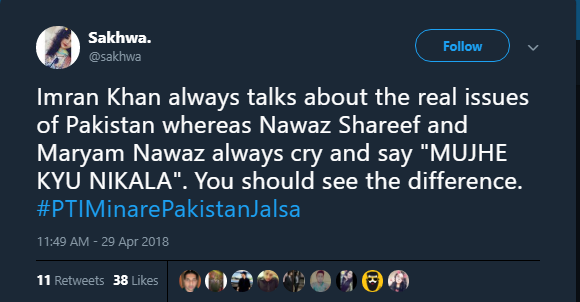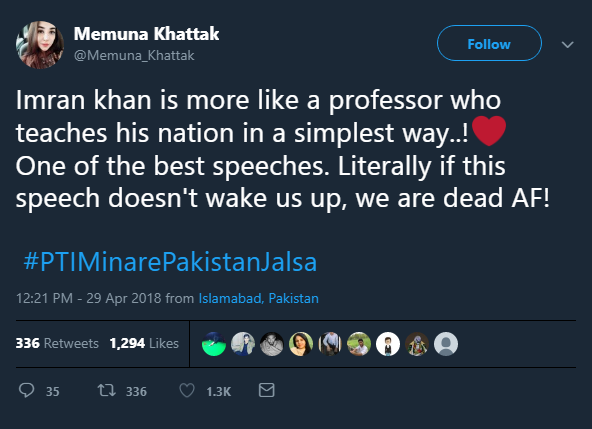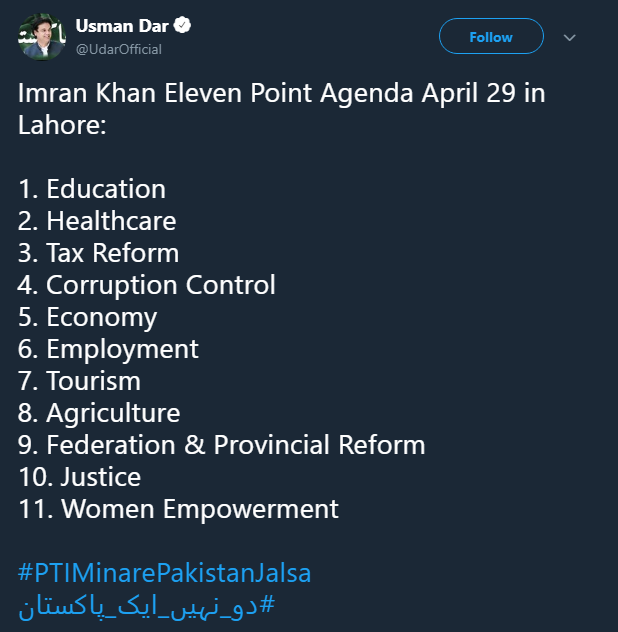 PTI chairman Imran Khan outlined a 11-point reforms programme to usher in a new era of prosperity as he contemplates for the country after coming in power.

Imran's 11-point programme
Education for All
Addressing a rally, PTI chief said that no country can ever flourish without emphasizing on the education. PTI will establish educational institutions of international standard.
While promising to establish 20 new universities in the country, Imran said; "35 million children study in government schools. Half of Punjab's budget is being spent on Lahore [alone]. He  asked Shehbaz Sharif  that how many international-level universities he has  established."
Health
Imran Khan said his party gives a great importance to health sector which plays a major role for a healthy society, adding that if someone from poor family falls ill, it drains everything, so PTI will make health facilities available for all.
To a boisterous crowed, Khan pledged  to introduce a health insurance system.
Self-Reliance via Revenue Generation

Imran Khan said his party would improve system of taxation in the country  and will make economic reforms to make Pakistan a self reliance country. He added; "We don't have money to run countries, we're under heavy debts. I claim in front of you today that I will show you how to gather money from this nation."
Corruption Free Pakistan
Promising to eradicate corruption from Pakistan, PTI chief cited the example of his decision to expel 20 MPAs from his party for "selling votes" in the Senate elections earlier this year, Imran promised the people he will  make Pakistan corruption free.
"We will stop money laundering, we will strengthen the NAB and FBR," he added.
The PTI chief said that he will never let anyone steal the public finances while urging the nation to support him in his "war against the corrupt leadership" of the country.
To Open New Vistas of  Investment
In his speech, PTI chief said his party will revamp investment policy to attract giant investors in the country. He  termed overseas Pakistanis as the biggest investing potentials for the country and resolved to bring a huge investment into Pakistan.
"We will reduce the tax on electricity and gas for our industries so that they could compete with Indian market," Imran said.
Employment
To eradicate unemployment from the country Imran promised the youth much better employment opportunities, Imran said he would especially focus on boosting the tourism industry of Pakistan.
Imran Khan also rpomised to build 5 million homes for the poor, which would create jobs and stimulate the economy.
Agriculture Emergency
Addressing a massive rally, Imran said he would improve agriculture and the lives of farmers on 'an emergency basis.'
"Farmers work for the whole year and get nothing in the end. They are being exploited by the sugar mill mafia," said PTI chief.
He said to bring policy for farmers after which they will get  would get cheap loans.
Strengthening The Federation
Imran promised to bring Fata into mainstream to strengthen the federation.
He said after coming in power his party will announce southern Punjab province  on administration basis.
"We know how the injustice is being done to smaller provinces. I know more about Khyber Pakhtunkhwa," he said.
He said his party will introduce KP's local govt system across Pakistan, adding that they will directly elect mayors of big cities and  devolve power so that people wouldn't have to run after MPAs and MNAs for development funds.
To Promote Tourism & Environment 
Imran said the environment was a priority on the party's manifesto, adding that PTI will specially focus on Pakistan's tourism industry.
"For the first time ever, the Khyber Pakhtunkhwa government paid special attention to the environment," he said, adding that the party plans to plant 10 billion trees across Pakistan.
"We can even clean the rivers," he added.
To Improve Police and Justice System
PTI chief stressed the importance of justice and the police system.
Highlighting the significance KPK police he said that KP police is totally depoliticized, adding that there's no victimization via FIRs, not a single extrajudicial killing in the province while in Sindh Rao Anwar murdered 400 people.
He asked; "Have you ever heard people raising slogans of zinda bad for police? it happens in KP only. But Inshallah there will be a day, people of Punjab will also say "Punjab Police Zindabad".
Women Empowerment Through Education
Imran Khan said that to educate a woman means to educate a family, adding that his party has an extensive program for women empowerment.
"Whatever I am today, it's all because of my mother who made me a patriotic person and raised me to be a truthful person."
Comments
comments