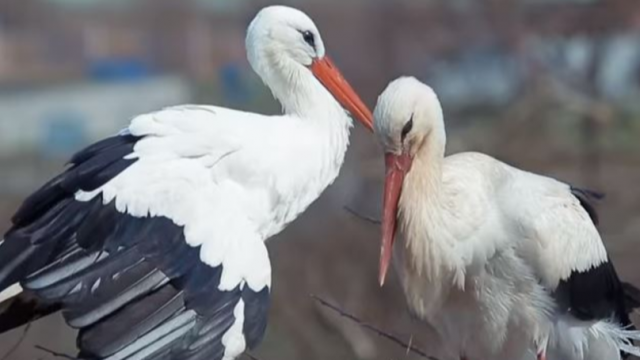 In the age of commitment issues and distractions, how many of us humans would do the same for our spouse? And keeping in mind, taking a flight is convenient comparatively.
This faithful male stork flies thousands of miles EVERY SINGLE YEAR to join his handicapped female companion who can't fly. And this is just the most heart-squeezing thing. The story of Klepetan and Malena, the names given to the beautiful couple by observers, is one of the love stories that demonstrates loyalty beyond human comprehension.
By late March, Klepetan was back in the tiny village of Brodski Varos, eastern Croatia, for his 16th year in a row, after leaving his winter home in South Africa.
He flies to meet the love of his life, Malena, which translates to 'Little One' in Croatian. There Malena waits to start having more babies. The beautiful faithful couple already have 62 children flying around the world.

Credit: YouTube/ Croatia Full Of Life
The final destination of Klepetan has been traced to near Cape Town, South Africa, some 14,500 kilometers (9,000 miles) from Malena. Which takes him about a month to travel. This faithful couple has made them celebrities in Croatia.
Local school caretaker, Stjepan Vokic, adopted Malena in 1993 when he found her near a pond, injured by a shot from hunters.
When the Spring blossoms, the caretaker makes a gigantic nest for Malena on the building's roof. And it is where Klepetan and Malena meet.

Credit: YouTube/ Croatia Full Of Life
"I also take her fishing since I can't take her to Africa. We even watch TV together. If I had left her in the pond foxes would have eaten her. But I changed her fate, so now I'm responsible for her life."
This beautiful couple leaves us questioning our own sense of commitment. Would we ever do the same for our partners? Would our partners ever do the same for us? In the age of distractions and commitment issues, it is hard to find the right people for you, the kind of people who would stick to you through thick n' thin. Let's be inspired by Klepetan and Malena and be a positive example demonstrating the true meaning of love and truthfulness.
Comments
comments