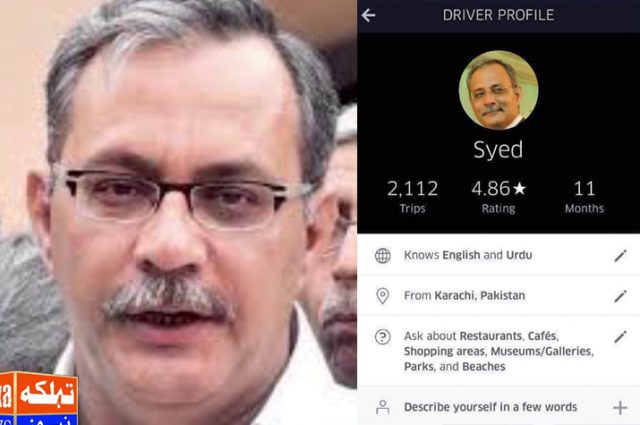 By M.R.
Haider Abbas Rizvi, a former Deputy Parliamentary Leader of MQM in the National Assembly of Pakistan, was recently captured driving Uber in Canada and the public has mixed feelings about it.
This MQM's senior leader distanced himself from the main politics of the party and had been keeping a low profile by residing in Canada for a while now.
Earlier, a video of him driving an Uber was released on social media that sparked a dialogue on the internet. While some people are siding with him for trying to earn an honest living, others are arguing that he's being punished for trying to rob the country.
Furqan Siddiqui, a Media Professional, claims to be proud of his friend trying for working honestly. 
I'm getting a lot of Whatsapp msgs with Ex MNA of #MQM Haider Abbas Rizvi's Uber profile in Canada. Saw a couple of tweets against him. I'm simply proud of my friend. At least he opted to work and earn rather than loot and spend like many other politicians of #Pakistan.

— Furqan T. Siddiqui (@furqantsiddiqui) June 2, 2018
According to Senator T Mashhadi, the very fact that he is driving a taxi speaks volumes of his honesty & belief in dignity of labour.
@furqantsiddiqui Haider Abbas Rizvi is one of the most honest, kindest, loving,caring,decent, compassionate & hardworking people I have ever come across.He is a wonderful human being. The very fact he is driving a taxi speaks volumes of his honesty & belief in dignity of labour.

— Senator T Mashhadi (@SenatorMashhadi) June 2, 2018
Some people believe that Uber is lucky to have such a leader onboard.
@Uber one of your employee #Haider-abbas-rizvi is the most loved,respected and honest parliamentarian of Pakistan. He is an icon and your company is lucky to have him https://t.co/J4g69PReVK

— Tariq Irfan (@Tariq_Irfan) June 2, 2018
Others are proud of him for working hard to make the both ends meet. 
Honesty is a divine language – Mola Ali (a)

If this is true, being Pakistani and hussaini i am so proud of Haider Abbas Rizvi. Salute his efforts to earn Halal unlike other politicians. ❤ pic.twitter.com/C1f3DtKmfG

— Madiha Abbas Naqvi (@Madeeha_Naqvi) June 2, 2018
People believe that Haider Abbas deserves to be recognized and appreciated for this act. 
We must recognised and appreciate Haider Abbas rizvi.who were in politices since ages but now earning) money through uber.not like many politician who fucked up pakistan and did lot of corruption like zardari mafia.well done Haider abbas rizvi @RaziDada @geonews_urdu pic.twitter.com/TLnYFIZFLA

— Nasir Nadeem (@nasirnadeempk) June 1, 2018
And that this is not something he should be bashed over for. 
I would appreciate if Haider Abbas Rizvi earns money through hard working as other people are making joke of him on social media must think that Uber job in other countries is very respectful, so we must support all those who do believe in " Mehanat". pic.twitter.com/Jko9MuhvRy

— Imtiaz Chandio (@imtiazchandyo) June 1, 2018
While most people are supporting him, there are others who are making fun of him for working with a cab company in Canada. 
I'm not sure about the authenticity of this picture nor tweeting it grow against Haider Abbas Rizvi. But, alot to say if this is true, although no harm in driving an Uber & earning Halal but there was a time these faces were icons for #karachi and now sowing what was reaped! pic.twitter.com/UWcoQnbyyg

— S. A. Shah (@AtharShahJee) June 1, 2018
بے شک اللّـہ دلوں اور دنوں کو پلٹنے والا ہے
جو کل ملک چلایا کرتے تھے آج کینیڈا میں Uber چلا رہے ہیں
Former Deputy Parlimentary Leader of MQM Haider Abbas Rizvi pic.twitter.com/SpKr7gmLAN

— TaiMour Kazmi (@KazmiTaimour) June 2, 2018
Ask yourself this question though: if this is all true, then doesn't this cement his credentials as an industrious, non-corrupt politician who served his constituents & takes pride in hard-earned legal income?
Comments
comments