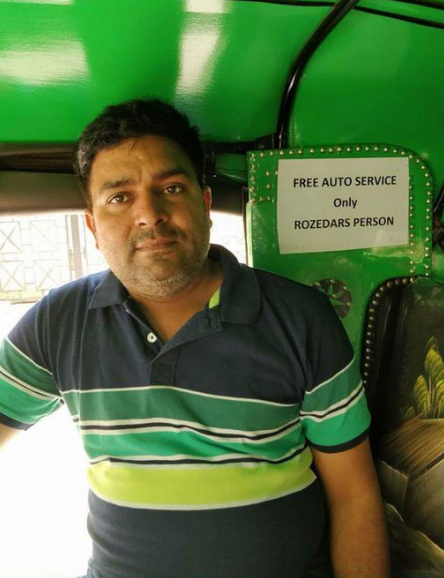 In the city of New Delhi, a Hindu man Prahalad was committed to give free rides to the muslims who are fasting in Ramadan.
"I just thought that it's been quite hot during these days and if I could be of any help to them, I will also earn some blessings. This is all I can do because I earn my living by driving an auto-rickshaw. This is my contribution from whatever profits I earn," Prahalad.
He thinks his gesture will help bring the communities closer and "something good will come out of it".
Prahalad has been providing his services since the beginning of Ramadan and says that he has given his services to many muslims during this time.
"Once i refused to take money from them, they say that they will pray for me. That brings peace to my heart," he said.
He is often spotted around the Green Park metro station in New Delhi.
Since the current Prime Minister Narendra Modi took the office, there has been a wave of intolerance between the Muslims and Hindu communities. There have been raids and lynching on Muslims to a great extent. The minorities of different backgrounds have been targeted by Hindu extremists.
Incidents of Hindu vigilantes torturing people belonging to Muslim and Dalit communities have been on the rise during the last few years.
The  auto-rickshaw driver has been commended  on social media for setting a good example. He has been trending all over Pakistan and India at the moment and the educated people with the sense of tolerance for other religions have been applauding his efforts.
This world is full of people with different opinions, backgrounds and religions. It is mandatory to educate people on the sense of pluralism and to spread love and harmony to the people around us. No religion teaches to hate, we must always keep our muslim and non-muslim brothers and sisters safe, it is out moral obligation to make sure our people live a comfortable life. Prophet Muhammad (PBUH) treated even the non-muslims of Makkah and Madina with great love and compassion, and without a doubt that is the model we must all follow as well.
This man is being appriciated by people on social media.
Meet Prahalad, a 34-year-old #Delhi auto rickshaw driver who gives free rides to those who are fasting during #Ramazan It's very hot these days. So I thought if I could help out a few people, this way I could I get some blessings, he said.
#HumanityIsTheBiggestReligion pic.twitter.com/e1q4Rs7o8t

— Shaan (@Shanyousaf6) May 31, 2018
Delhi Auto-Rickshaw Driver Prahalad Gives Free Rides To Muslims During Fast :')

"I just thought that it's been quite hot during these days and if I could be of any help to them (Rozedars), I will also earn some blessings."
-Rickshaw Driver Prahalad#Achaikimisaal pic.twitter.com/jKkSOg9gLO

— Phupho (@Phuppho) May 30, 2018
#NewDelhi Auto-Rickshaw Driver Prahalad Gives Free Rides To Muslims During Fast. 😊

"I just thought that it's been quite hot during these days and if I could be of any help to them (Rozedars), I will also earn some blessings."
-Rickshaw Driver Prahalad#Achaikimisaal #Ramazan pic.twitter.com/EBDtGyvZud

— SherY – (@SherySyed_) May 30, 2018
Comments
comments