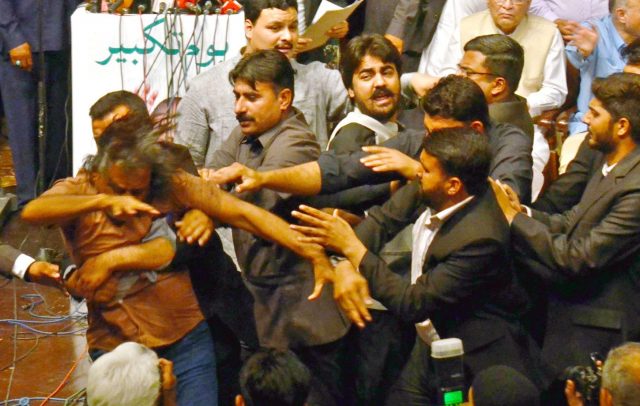 As absurd as it sounds, this is absolutely true. In an interview this is what he had to say:
This happened after the PML-N man gets beaten up by Nawaz Sharif's security after attempted hand-shake.
This took place in Lahore, where PML-N leaders gathered to mark the country's 1998 nuclear tests and celebrated.
According to footage aired, a middle-aged man is seen running toward Nawaz Sharif. He brought forward his hand in an attempt to shake hands with nawaz Sharif and before he could success, the security of PML-N got to the point and thrashed the supporter while millions of people watch on national television, and several in the auditorium.
Later on, PML-N leader Khawaja Saad Rafique intervened, rescued the man and took him to the side while the crowd seemed to be against him and wanted to thrash the poor man.
The former prime minister also got to the thrashed worker after his security clearance.
Maryam Nawaz, who was also present at the venue, spoke against the aggressive response of the security officers, saying that 'supporters have a special relationship with their quaid [leader].'
Here is a detailed video on the incident that earlier took place:
Comments
comments