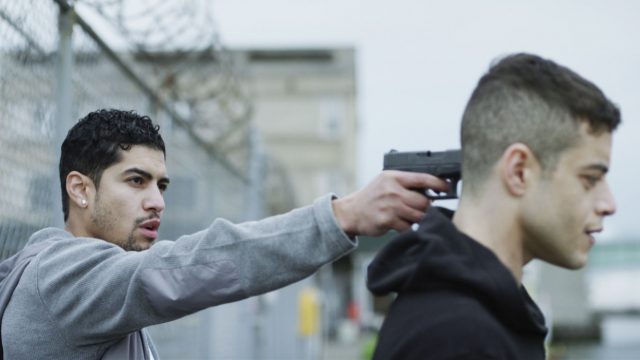 An assassination is a murder of an individual, who is usually a famous celebrity, politician, religious figure or royal. Usually in cases of assassination there is a clear motive – jealousy, political or religious idealism, contract killing, revenge etc. This list outlines the circumstances surrounding the death of 5 of the most famous successful assassinations in world history.
Liaqat Ali Khan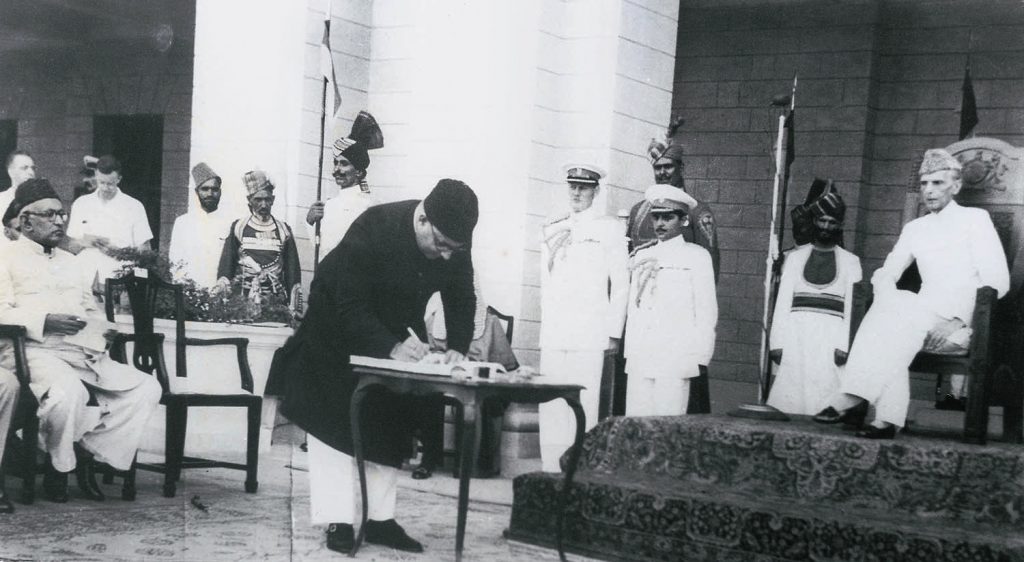 Nawabzada Liaquat Ali Khan widely known as Quaid-e-Millat (Leader of the Nation) and Shaheed-e-Millat was one of the leading founding fathers of Pakistan, statesman, lawyer, and political theorist who became and served as the first Prime Minister of Pakistan; in addition, he also held cabinet portfolio as the first foreign, defence, and the frontier regions minister from 1947 until his assassination in 1951. Allegations had been pointed towards the involvement of Afghan monarch Zahir Shah and the United States government in his assassination, though this claim has not merited any substantial evidence. Prior to that, he briefly tenured as the first finance minister in the interim government led by its Governor General Mountbatten.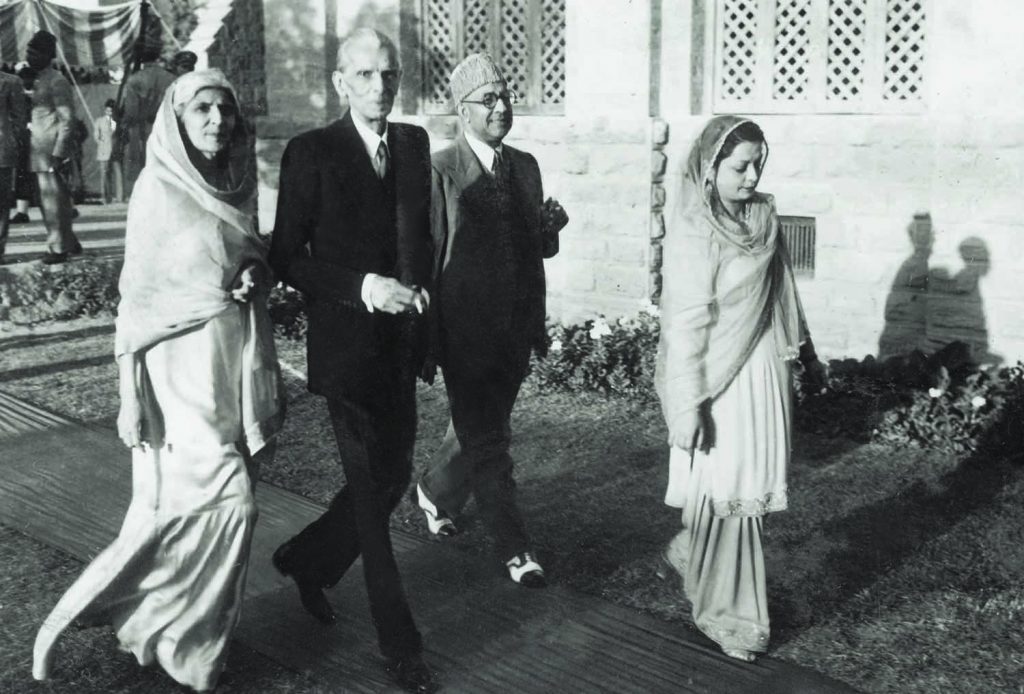 Ali Khan's credentials secured him the appointment of Pakistan's first Prime Minister, Ali Khan's foreign policy sided with the United States and the West, though his foreign policy was determined to be a part of the Non Aligned Movement. Nonetheless, his influence grew further after Jinnah's death, and he was responsible for promulgating the Objectives Resolution. In 1951, at a political rally in Rawalpindi, Ali Khan was assassinated by a hired assassin, Said Babrak
On 16 October 1951, Khan was shot twice and killed during a public meeting of the Muslim City League at Company Bagh (Company Gardens), Rawalpindi. The police immediately shot the presumed assassin. Khan was rushed to a hospital and given a blood transfusion, but he succumbed to his injuries. The exact motive behind the assassination has never been fully revealed and a lot of speculation exists about it. An Urdu daily published in Bhopal, India, saw the US hand behind the assassination. Upon his death, Khan was given the honorific title of "Shaheed-e-Millat", or "Martyr of the Nation". He is buried at Mazar-e-Quaid, the mausoleum built for Jinnah in Karachi. The Municipal Park, where he was assassinated, was renamed Liaquat Bagh (Bagh means Garden) in his honor. It is the same location where ex-Prime Minister Benazir Bhutto was assassinated in 2007.
Benazir Bhutto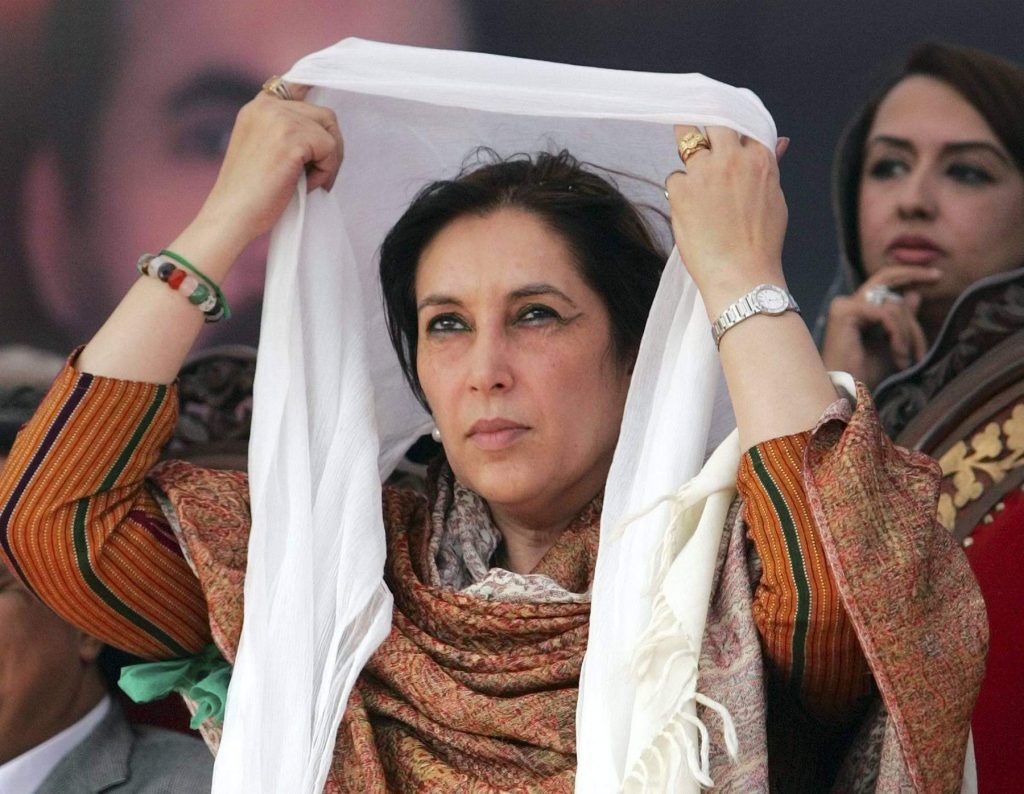 Benazir Bhutto was a Pakistani politician who served as Prime Minister of Pakistan from 1988 to 1990 and again from 1993 to 1996. She was the first woman to head a democratic government in a Muslim majority nation. Ideologically a liberal and a secularist, she chaired or co-chaired the centre-left Pakistan Peoples Party (PPP) from the early 1980s until her assassination in 2007.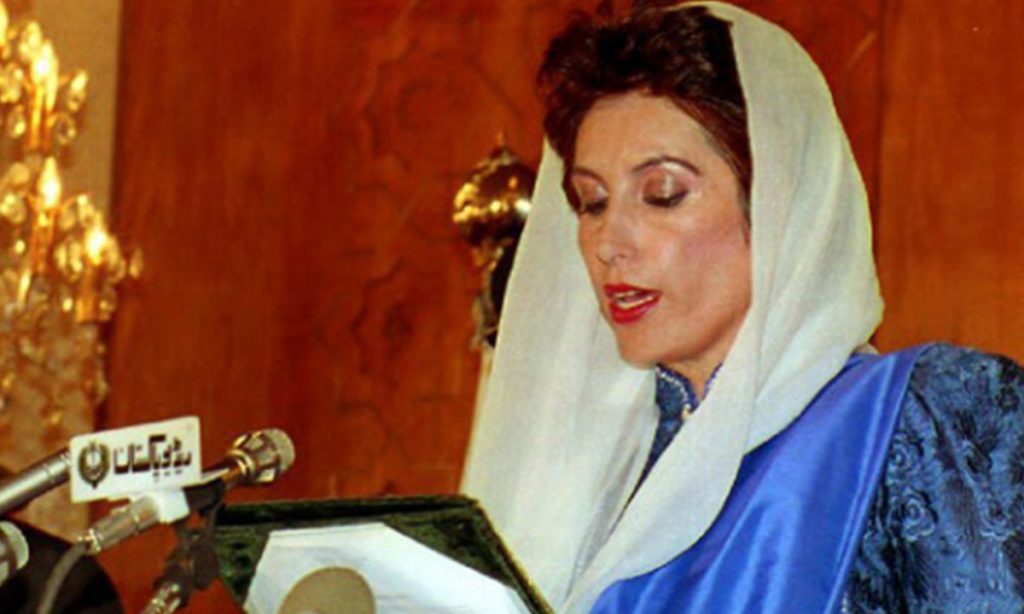 On the afternoon of 27 December 2007, she gave a speech at a PPP rally held in Rawalpindi's Liaquat National Bagh. On leaving in a bulletproof vehicle, she opened the car's escape hatch and stood up to wave to the surrounding crowds. A man stood within two to three metres of the car, fired three gunshots at her, and detonated a suicide vest packed with ball bearings. Bhutto was fatally injured; reports differ as to whether she was hit by bullets or by shrapnel from the explosion.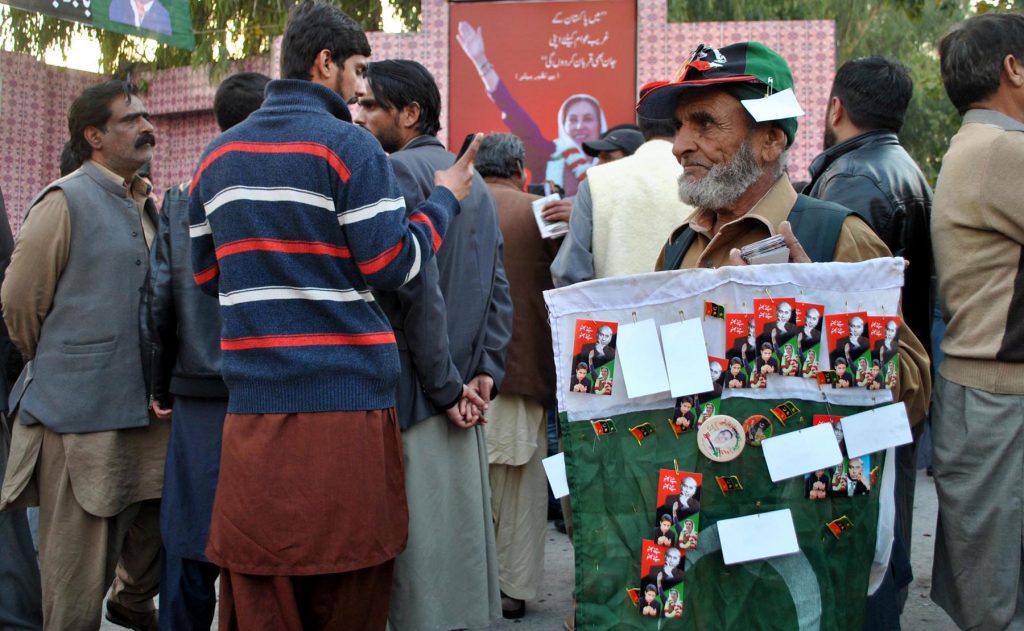 Bhutto was rushed to Rawalpindi General Hospital but was clinically dead on arrival and attempts at resuscitation were unsuccessful. No autopsy was conducted, and the body was swiftly transported to Chaklala Air Base. The following day, she was buried next to her father in the Bhutto family mausoleum, Garhi Khuda Baksh, her family graveyard near Larkana.
General Zia Ul Haq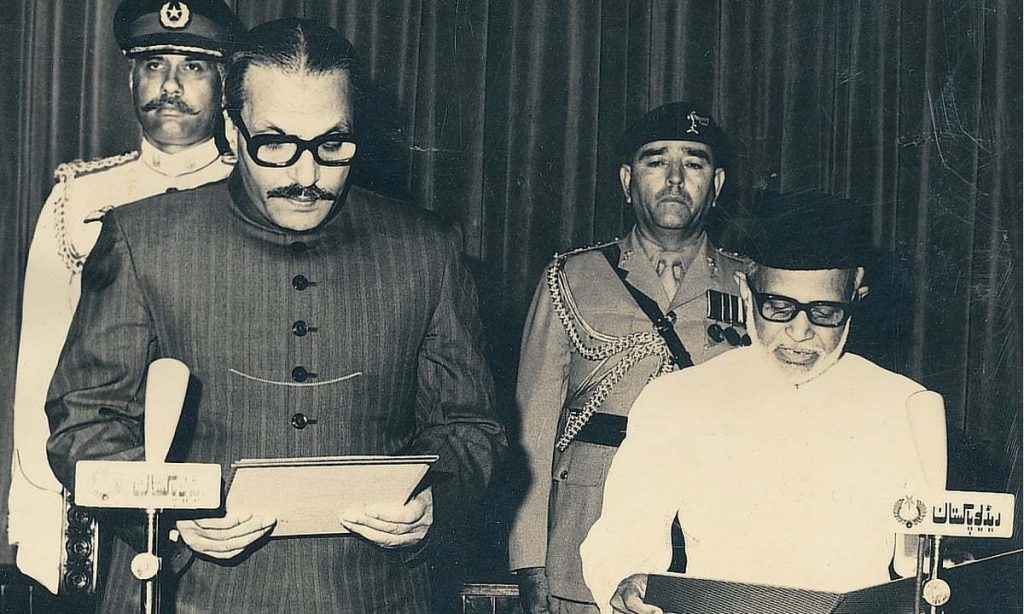 Muhammad Zia-ul-Haq was a Pakistani military dictator and four-star general who served as the 6th President of Pakistan after declaring martial law in 1977. He ruled from 1978 until his death in 1988 and remains country's longest-serving head of state after Ayub Khan.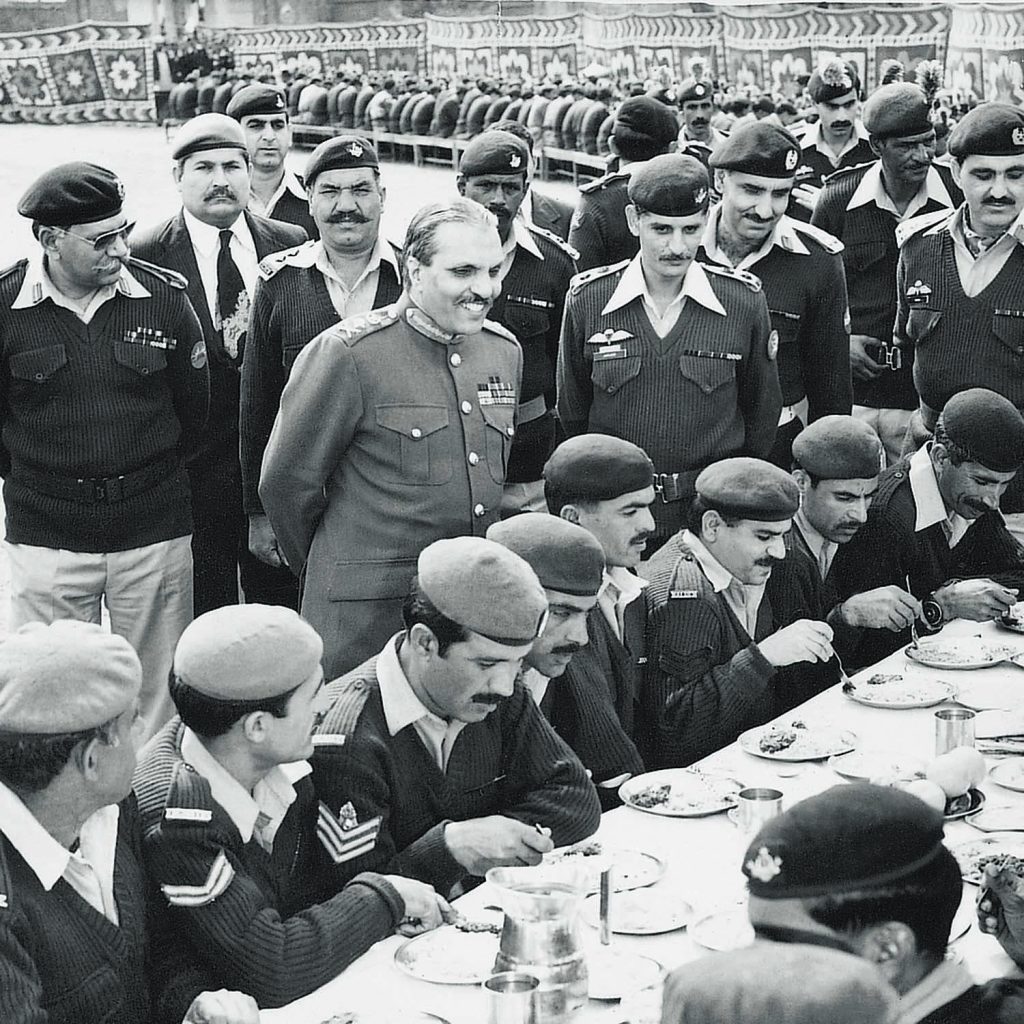 Zia died in a plane crash on 17 August 1988. After witnessing a US M1 Abrams tank demonstration in Bahawalpur, Zia had left the small town in the Punjab province by C-130B Hercules aircraft. The aircraft departed from Bahawalpur Airport and was expected to reach Islamabad International Airport. Shortly after a smooth takeoff, the control tower lost contact with the aircraft. Witnesses who saw the plane in the air afterward claim it was flying erratically, then nosedived and exploded on impact. In addition to Zia, 31 others died in the plane crash, including chairman Joint Chiefs of Staff Committee General Akhtar Abdur Rahman, close associate of Zia, Brigadier Siddique Salik, the American Ambassador to Pakistan Arnold Lewis Raphel and General Herbert M. Wassom, the head of the US Military aid mission to Pakistan. Ghulam Ishaq Khan, the Senate chairman announced Zia's death on radio and TV.
Salman Taseer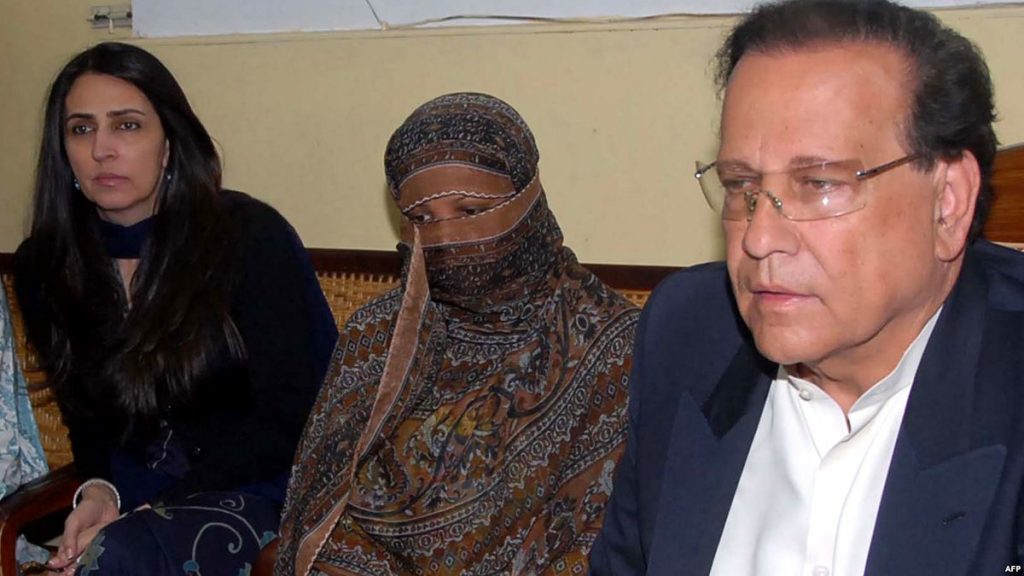 Salmaan Taseer was a Pakistani businessman and a liberal politician, who served as the 26th Governor of Punjab from 2008 until his assassination in 2011. He was appointed as the governor of Punjab on 15 May 2008, by then-President Musharraf at the request of Prime Minister Yousaf Raza Gillani. During his governorship, he emerged as an outspoken critic of the Pakistan's blasphemy laws and consequently called for the pardon for Asia Bibi.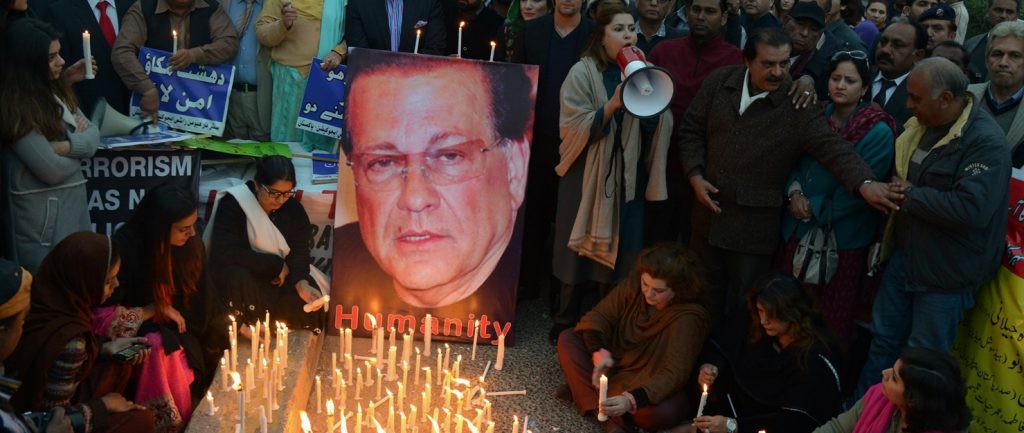 On 4 January 2011, he was assassinated at the Kohsar Market in Islamabad by his bodyguard, who disagreed with Taseer's opposition to Pakistan's blasphemy law. The Guardian described Taseer's murder as "one of the most traumatic events in recent Pakistani history." A nationwide three-day state of mourning was held in Pakistan.
Shahbaz Bhatti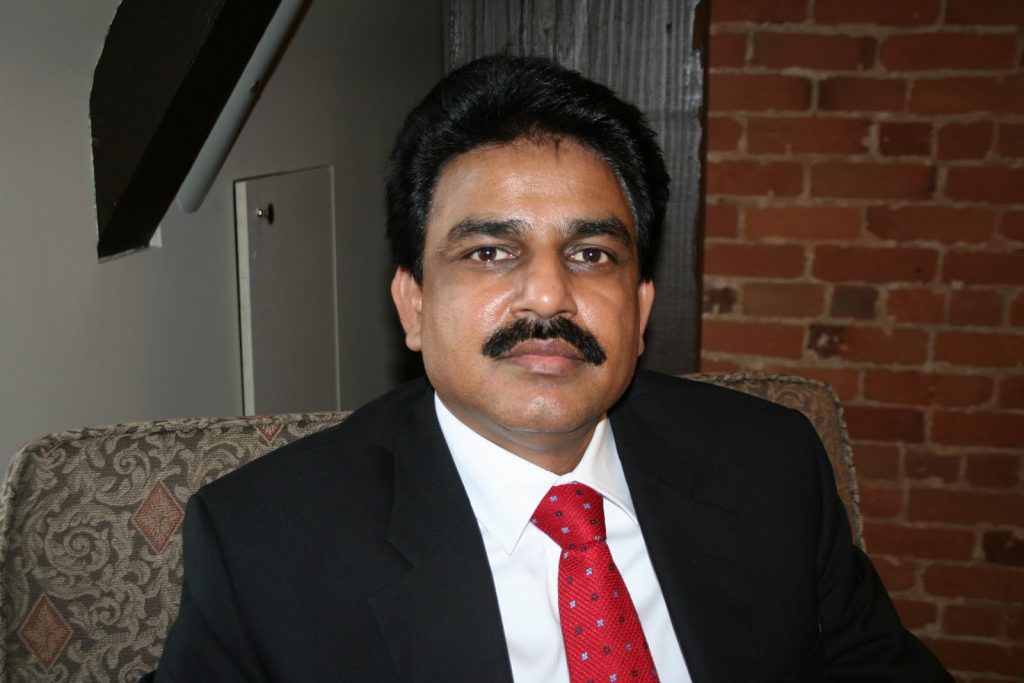 Clement Shahbaz Bhatti popularly known as Shahbaz Bhatti, was a Pakistani politician and elected member of the National Assembly from 2008. He was the first Federal Minister for Minorities Affairs from November 2008 until his assassination on 2 March 2011 in Islamabad. Bhatti, a Roman Catholic, was an outspoken critic of Pakistan's blasphemy laws and the only Christian in the Cabinet. Tehrik-i-Taliban Pakistan claimed responsibility for his killing and called him a blasphemer.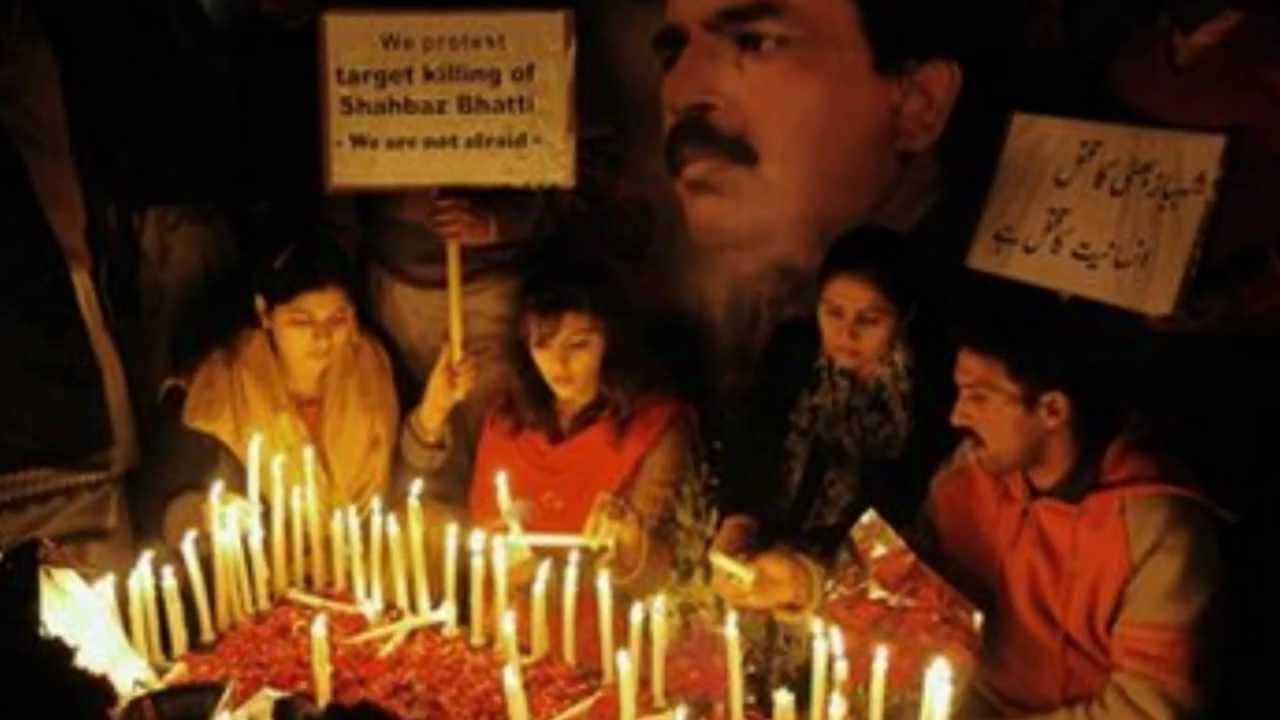 Bhatti had been the recipient of death threats since 2009, when he spoke in support of Pakistani Christians attacked in the 2009 Gojra riots in Punjab Province. These threats increased following his support for Asia Bibi, a Pakistani Christian sentenced to death in 2010 for blasphemy. The United States had tried to obtain increased security for him and get him an armoured car but was unsuccessful. Bhatti himself foretold his death and recorded a video, which was to be released in case of his death, where he said "I believe in Jesus Christ who has given his own life for us, and I am ready to die for a cause. I'm living for my community … and I will die to defend their rights."
According to the BBC, Bhatti was travelling to work through a residential district, having just left his mother's home, when his vehicle was sprayed with bullets. At the time of the attack he was alone, without any security. His driver reports having stopped the car and ducked when he saw armed men approaching rather than attempting to evade the threat. Bhatti was taken to a nearby hospital, but he was pronounced dead on arrival. The group Tehrik-i-Taliban told the BBC that they carried out the attack, because Bhatti was a "known blasphemer." A Roman Catholic who had criticised Pakistan's blasphemy law, his death follows that of Punjab governor Salman Taseer, who was also assassinated amid the controversy over the blasphemy law.
Comments
comments