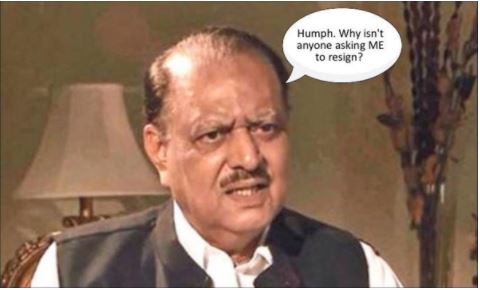 Did you know he has been the President of Pakistan for five years now? During his tenure as the President, he has inspired a lot of memes and unlike his predecessors. not a lot of controversy. Known for his 'khamoosh tabiyat' and humble persona, this non-controversial President of Pakistan, which in itself is no mean feat, has quietly accomplished which many Presidents before him could not.
He succeeded Asif Ali Zardari when he took over the Presidency in 2013, who was succeeded by General Pervez Musharraf. Compare him to the "noise" and controversy they generated through their statements, politics, and scandals.
We decided to dedicate this post to our quietest, humblest, most fatherly, funniest and politically correct-est President ever.
To start off with, let us mention how President Mamnoon speaks to our existential crises. That silent yet pinching feeling of wanting recluse from the world and being comfortable under your own skin. As the poet says: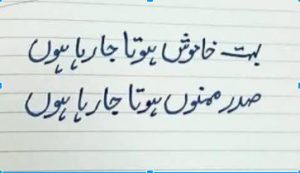 FACT 1: President of Pakistan was born in India. Yep.
President Mamnoon Hussain hails from a Muhajir family of shoe traders and was born in Agra, UP during the British rule. He and his family migrated to Karachi in 1949 after the independence of Pakistan in 1947.
FACT 2: President of Pakistan did not attend a formal school.
Thinking of home-schooling your child? Well, he/she can become President too.
FACT 3: President Mamnoon Hussein did his MBA from the prestigious IBA.  
After graduating from Karachi University, he studied MBA from Institute of Business Administration (IBA)- yes exactly where your school-schooled kids can't get admission into. Huh.
FACT 4: President Mamnoon Hussein is self-made and middle class.
Unlike former President Zardari, who is known for his wealth, President Mamnoon comes from a middle-class family who has lived in the middle-class area of Burns Road in Karachi for a long time. His son, Salman said in the interview to The News, "Our neighbors must be proud that a person from the middle class has reached the President's House."
FACT 4: Newbie who? President has been at it since 1968.
Because of his quiet persona, people think President Mamnoon Hussein was not politically active until one fine day when PML-N thought to make him President. Rubbish. President Mamnoon Hussein was doing national-level politics before you were even born. In 1968 he came to the national scene when he joined the Pakistan Muslim League (PML) led by Nurul Amin.
FACT 5: President Mamnoon Hussein was the Governor of Sindh.
Yes. In June 1999, he became the governor of Sindh, but his term was cut short on 12 October 1999 when the PML(N) government was ousted in a military coup.
FACT 7: President in jail? Been there. Done that.
He may not have a bad-boy persona but his dedication to democracy needs no explanation as he became a political prisoner after raising his voice against the military regime of Pervez Musharraf.
FACT 8: President does not like Aiwan-e-Sadar, the Presidential palace.
In an interview with BBC, President Mamnoon Hussein complained that "he feels the palace – one of the grandest buildings in cash-strapped Pakistan – is more of a cage."  
"I can't go out for shopping as I used to do"- President said.
FACT 9: Nawaz Sharif ignores President Mamnoon Hussein.
Who would not give this harmless, humble and kind man time? Nawaz Sharif. Imagine. The President bemoaned in the same interview to BBC that, "Only once a month I get to see him. The prime minister is very busy these days so can't come to see me, whereas protocol stops me from going to his place."
If this was not enough, the head of the state lamented "I am not completely in the picture and not consulted."
If the government won't consult the president, who would? His wife? Maybe.
FACT 10: President Mamnoon Hussein is the Chancellor of 17 universities.
President Mamnoon Hussein has something to keep him busy, at least.  He is the chancellor of 17 universities and attends their graduation ceremonies waghaira waghaira.
Last but not the least, President Mamnoon has been inspiring funny memes from Pakistanis. Some of them are recollected here: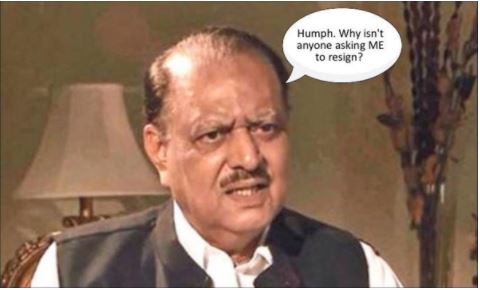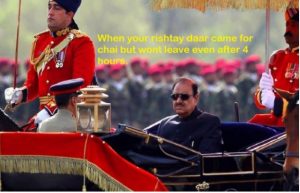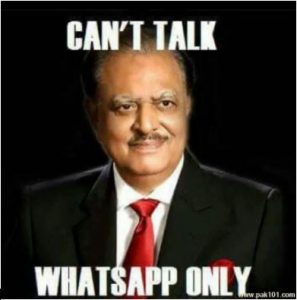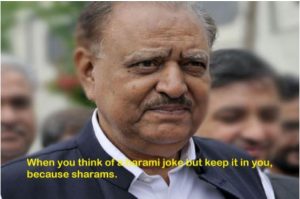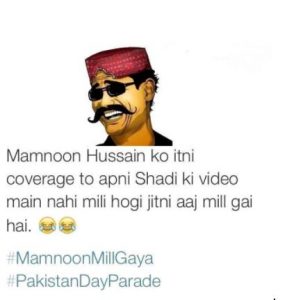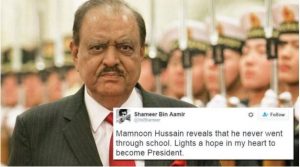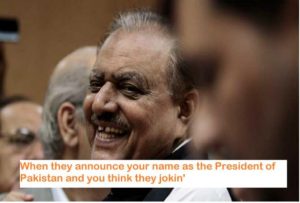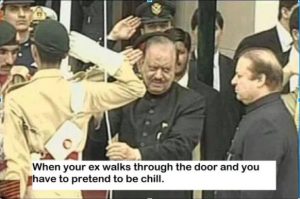 Jokes aside, we convey our sincerest respects to President Mamnoon Hussein who has managed to stay out of controversy, scandal, and petty politics and spent his tenure with dignity. Compare him to the President of United States: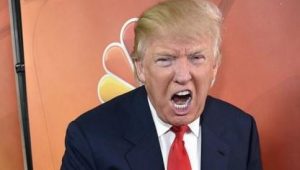 Comments
comments