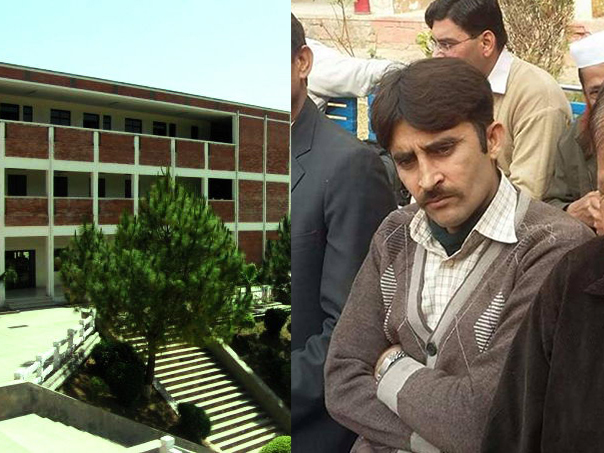 By M.R.
TRIGGER WARNING: SEXUAL HARASSMENT 
Saba Ali, currently a student of Bahria College Islamabad, accused an invigilator of harassing more than 80 students who appeared for their biology practical exam through a Facebook status.
Saadat Bashir, a biology professor at IMCB, was sent to Bahria College by Federal Board of Intermediate and Secondary Education to invigilate the practical exam.
According to Saba, the invigilator groped and passed sleazy comments at almost 80 girls who were present in the lab and threatened to deduct their marks if they lodged a complaint about it.
The status she posted is as follows:
Soon after Saba's status, a lot of other girls stepped up anonymously and shared their experience with the same invigilator.
It was later revealed that it was not only the students who he harassed, but he didn't leave the teachers alone either.
The girls tried to make a formal complaint to the concerned authorities but to no avail. They were told to keep their silence for the sake of their grades.
These statuses took the internet by storm and a lot of influencers and celebrities stepped up to support the girls.
Osman Khalid Butt, an actor/model and feminist, supported the cause and asked his followers to lodge a complaint against this sexual predator.
To everyone who claims to be an ally of the feminist cause, parents, brothers, sisters, teachers, all supporters of the #MeToo & #TimesUp movements, concerned citizens, please read this thread:
The time for action is now. #PunishSadatBashir https://t.co/nbFVpbuvfO

— Osman Khalid Butt (@aClockworkObi) May 29, 2018
Meesha Shafi supported and appreciated the girls for coming forward.
All strength and power to this brave sister for sharing her disgusting and alarming experience. #BahriaCollege kindly take immediate action. We are all watching and we are all waiting! #TimesUp https://t.co/lMdAVm5Csz

— MEESHA SHAFI (@itsmeeshashafi) May 29, 2018
Mawra Hocane, an Ex-Bahrian, showed her support to the victims.
My heart is broken, what happened to childhood ? I've studied from the same school & we used to be so safe. #BahriaCollegeIslamabad must take action against #SadatBashir #Timesup https://t.co/Mz55cevYbm
P.s Thankyou @itsmeeshashafi 🙏🏻🙏🏻 pic.twitter.com/vJ0tDkUgBi

— MAWRA HOCANE (@MawraHocane) May 29, 2018
On the other hand, Saadat Bashir denied the allegations, saying that he had been mentally tortured and even threatened since the issue had gone viral.
He told The Express Tribune, "I might have bumped into someone in the lab where many students were performing dissection but that does not mean it was deliberate or I wanted to harass students".
It's inspiring to see how women are no longer afraid to come forward and breaking the silence. It's about time some action is taken against such monsters.
Comments
comments