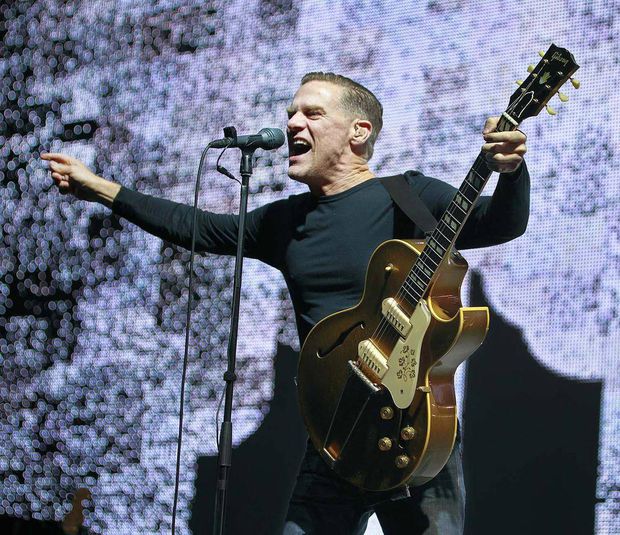 By Maha Usman
When it comes to music, Pakistan is almost like the daddy of so many genres; Sufi, qawali, pop, rap, rock, hip-hop, folk, and what not!
For decades, artists from all around the world have been coming to Pakistan to perform on our land. Our talent has also been going abroad for years now. Here are some mainstream artists and bands that have visited our country for the love of music.
Sonu Nigam (2004):
India's biggest musician, singer, composer, music producer, recordist, music programmer, live performer, and actor, phew that's a long long list… the star whose songs we usually hear in Shahrukh Khan's movies, has performed in Karachi in 2004. Did you know there was a bomb blast at the time of his concert! However, on the positive side, the show went on EVEN with such a shocking event.

Jagjit Singh (1979 and 2004):
 Jagjit Singh, born Jagmohan Singh Dhiman (8 February 1941 – 10 October 2011), was an iconic Indian Ghazal singer, composer, and musician. Known as the "Ghazal King", he won hearts all over the world, especially, Pakistan and India. Singh is credited for the revival and popularity of ghazal, an Indian classical art form, by choosing poetry that was relevant to the masses and composing them in a way that laid more emphasis on the meaning of words and melody evoked by them. In terms of Indian Classical music, his style of composing and singing is considered one that lays emphasis on words. Reference: Wikipedia
Singh has performed multiple times in Pakistan. His first visit here was in 1979 when he performed in Karachi.
Later, in 2004, a few years before his death. He made a greater fan following by performing here. Till date, Pakistanis are big fans of his 'kagaz ki kashti' and many more.
Bryan Adams(2006):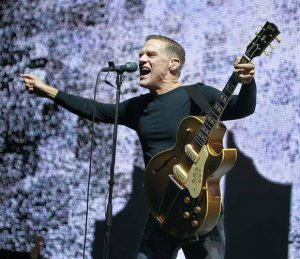 Aimed at raising money for victims of the October 2005 earthquake, the musical event was billed as the first concert held in Pakistan by a major western artist since Sept. 11, 2001.
However, local officials told the Canadian singer and musician that it was the first of its kind.
"The concert we did there is the first big concert they've ever had there, never mind Sept. 11," he said of the event, which he also called an "eye-opening experience."
Adams was recruited to perform by Pakistani pop star Shehzad Roy, who was his opening act and the founder of a charitable organization called Zindagi Trust.
The education advocacy group pays local children the equivalent of $2 per week to attend one of its 35 schools. It's an incentive to poor families to keep their kids in class rather than send them out as child laborers.
During his visit, Adams also attended a dinner with President Gen. Pervez Musharraf, where they discussed the massive, devastating quake that killed more than 85,000 people around Kashmir and in the northwest of Pakistan."We had an absolutely amazing time [in Pakistan]," he said. "Never once did we ever feel that there was a problem with security…I met nothing but lovely people there."
Source: CBCnews
Alka Yagnik and Kumar Sanu (2016)
These two Bollywood sensations have been famous for a very long time for blockbuster songs such as 'Baazigar', 'Ek Din Aap Yun', and many more.
She is noted in Hindi cinema for a career spanning over three decades.She is a record seven-time winner from a record of 36 nominations of the Filmfare Award for Best Female Playback Singer, a two-time recipient of the National Film Award as well as several other music awards and honors.
Kumar Sanu is a leading Indian playback singer of Bengali background, popular for rendering his voice in Bollywood movies of the 1990s and early 2000s. He holds the Guinness Book world record for recording the most songs in a day, 28, in 1993. He was awarded the Filmfare Best Male Playback Singer Award for five consecutive years.
Source: Bollywoodlife.com
Diplo and Elliphant ( 2016 and 2018):
Grammy-nominated DJ Diplo and Elliphant came to Islamabad in 2016. This year as well, Diplo performed in the capital. He's known for 'Lean On' and electro-music.
Here's what he had to say about Pakistan:
"I spent 24 hours in Islamabad… Meeting young musicians, new fans, students, embassy folks, parents, artists, security guards, cricket players & bootleggers… I drank a lot of tea ate some amazing food and smoked part of a hash brick that looked like it could kill a small elephant. A few hours later I played a concert in the city in a beautiful amphitheater in a park for so many awesome kids that knew all the music. I couldn't believe it. At the end of the show everyone backstage gave me hugs and hi-fives and told me it was a good time but it didn't feel normal. I almost felt like crying because here we all were at the end of the show with our peace signs in the air at the end of the concert doing something that might be arbitrary for us … On any Saturday night. We do it every weekend and we don't realize it's a privilege. For these kids from Islamabad Lahore or Karachi or the countryside, this is the first time they have ever done that and it might not happen again for a long time. But tonight everyone danced and sang together and wished for a better future and maybe it might make it easier for it to happen. Thanks so much for inviting me."
🇵🇰
Source: Images.com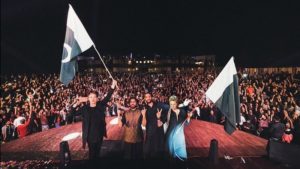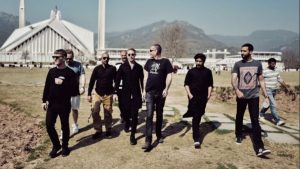 Kanika Kapoor( 2016):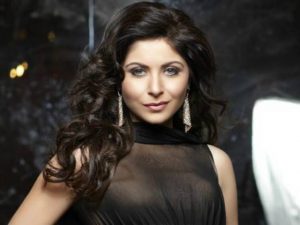 Kanika Kapoor — the voice of the hugely popular item song Baby Doll — was smitten by Pakistan's hospitality.
The Indian singer, who was in the capital two years ago, had come to perform at an event aimed at promoting peace between the two neighboring countries, shared the experience of her first visit across the border.
"People in Islamabad love music. It was great to perform there. I would love to visit the city again," she said in an interview with Hindustan Times.
Source: Tribune.com.pk
Sukhbir:
Sukhbir has been performing in Pakistan for a very long time now. The bhangra artist usually the highlight of elite desi weddings in the country. He is often referred to as the "Prince of Bhangra". His Bhangra music varies from fusion to pure Punjabi at times.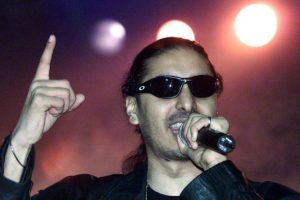 Sahara UK
This year, Lahore witnessed an amazing performance by their favorite Bhangra band, Sahara UK, at Coke Fest 2018. They also came to Islamabad in October 2017 for the same food festival. Here's a video of the group making the audience going lala.
Josh: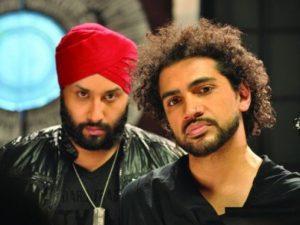 Shortly after their concerts in Melbourne and Sydney, the multi-platinum South Asian band JoSH, has rocked Lahore with a power-packed Bhangra performance, leaving a large energetic crowd in frenzy.
The Indo-Pakistan music duo jammed the night away at the Lahore Fort (Shahi Qila) at the kick-off of HBL PSL celebrations. Singing JoSH Nal, Mahi Ve, Aye Mausam and Nasha Pyar Da amongst other hits in their signature style. Rup Magon and Qurram Hussain were unstoppable and their surroundings almost transformed into a hip dance floor.
Bohemia:
The Pakistani-American rapper and record producer regarded as the first ever Punjabi rapper, releasing the first Punjabi rap album in 2002. Bohemia is often credited as the creator of the genre Desi hip-hop. (Ref: Wikipedia)
He is the first international act to host concerts to raise funds for the aid of the flood-affected victims. Bohemia will be performing later this month in Islamabad and Lahore.
Source: Tribune.com.pk

Comments
comments