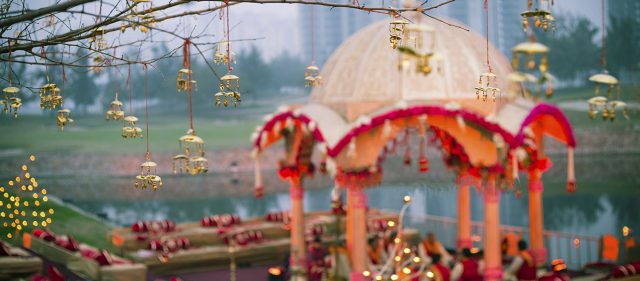 Every Pakistani whether living in the country or abroad can relate to this. Enter the 21st year of your life and desi parents start harrowing about your shadi. In their effort to convince their children to marry ASAP, parents come with the most awesome justifications and benefits of shadi.
Here we have compiled 10 problems that parents believe a shadi can solve:
1.Financial Problems
If you are a boy who just started his career and is struggling financially, parents have a solution for it: shadi. If you argue that how on earth can your shadi bring financial stability to your life, as it means catering for two people instead of one, parents would say, "Beta Ghar Wali Apna Rizq Saath Leti Hai."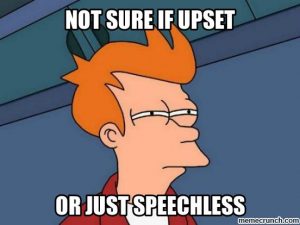 2. Sexual Harassment
If you are a girl who is not allowed to go outside a lot, especially after evening and you argue with your desi parents they would respond, "Beta Shadi Key Baad Jahan Marzi Chali Jana."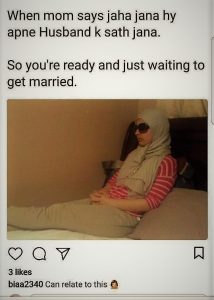 3. Professional Incompetence
If you only just managed to graduate, not with flying colors but rather flying f*s- and you suck at anything 'professional' i.e. work, deadlines, delivering quality etcetera, no problem, "Shadi Karlo."
You would often hear mom talking to muhallay ki aunty or rishtaydaar aunty saying, "Shadi Key Baad Seekh Jaye Ga."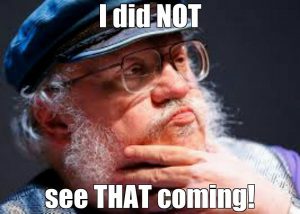 4.Chores / Ghar Key Kaam
Some people just suck at domestic chores. They do not seem to possess the organization to manage the never-ending demands of the house and the household. They cannot cook, they cannot clean, organize or manage. If you are one of them, do not worry because desi parents believe this can be resolved by shadi.
"Shadi Key Baad Seekh Jaye Gi."
5.Cleanliness
Mothers like to pay special attention to children's' untidy ways and mannerisms overall but if you lag in this department as you enter your 20s, do not cringe because shadi can make you a cleaner person, as moms would often say, "Bivi Aye Gi Tu Aik Dam Saaf Suthra Rahay Ga."
How that is not true as we see many untidy married men and women wandering around.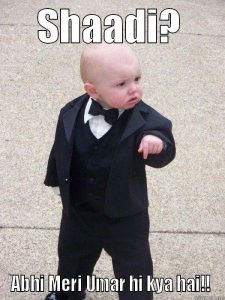 6.Waking Up Late
Staying up, watching TV shows, chatting all night and waking up so late that even you feel embarrassed? Koi masla naheen.
"Shadi Hojanay Dou- Alarm Se Pehlay Aankh Khul Jaye Gi."
7. Educational Failures
Did your cousin just flunk? Even after cheating? You thought she could make it but results reveal otherwise. There is no problem in this, as our dear mothers in their effort to convince us to marry go to the extreme that shadi can solve educational failures as well.
"Fail Hugaye Saima?"
"Haye! Kuch Naheen Houta. Shadi Kardou Uski."
8.Foreign Education
You graduated with good grades and you landed a good job but now you want to move abroad to study? Hmmm. Not so quick. Khalida Phupoo would make sure she convinces your mother to marry you off first. What has shadi got to do with foreign education? Even Einsten wouldn't be able to figure this one out. But oh well:
"Naheed! Shadi Kyeh Baghair Na Bhaijna."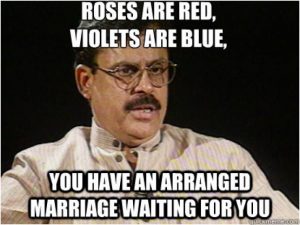 9.Homosexuality
Homosexuality is not a problem per se but the debate around it in our society definitely is. The great covenant of desi parents have a silent vow to "solve" homosexuality by shadi.
Two aunties talking:
"Midhat Ka Beta Thura Taira Hai."
"Uff Allah! Kuch Naheen Houta. Shadi Key Baad Theek Hujaye Ga."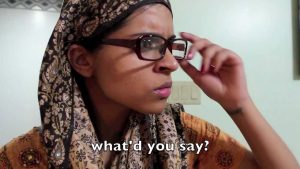 10.Success
It does not matter if you have a good job, make good money and have a fulfilling life. Desi parents would make that seem like a problem too. True that success may make a person arrogant and over-confident but how can shadi bring humility to one's life? Desi parents know best.
Two aunties chatting:
"Yasmeen, Uska Beta Mahinay Key 250,000 Rs Kama Raha Hai."
"Waqai? Unhein Chahyeh Uski Shadi Kardain Jaldi Se."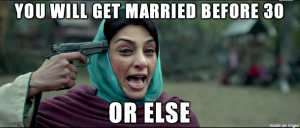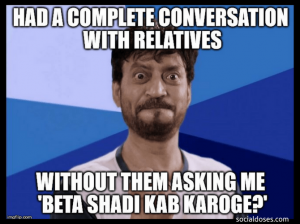 Have you heard more reasons that desi parents give to shadi- you off? Tell us by commenting, sharing and writing for us.
Comments
comments