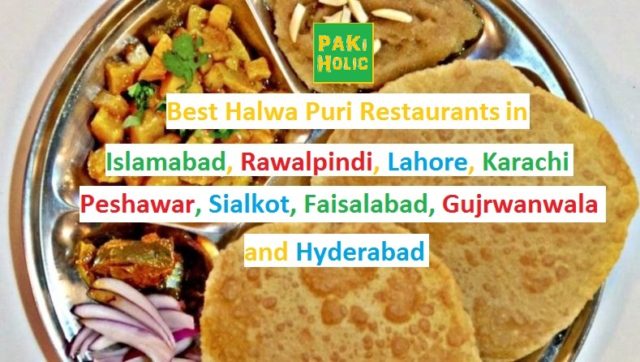 Today is Sunday. And You know what this means for many households in Pakistan? Well, it means that apart from getting some extra sleep, today is going to be a 'Halwa Puri' day. Yes, the delicious desi breakfast that you've been waiting for all week. Nothing can beat the taste of crispy fried 'puris' with some delicious 'chanay' and some mouthwatering 'halwa'. No matter, where you live in Pakistan, halwa puri is a must on Sunday, at least once a month.
Almost every city in Pakistan has some very popular outlets that sell this delicious breakfast on weekends. But, if you've been living under a rock and you don't know what are the best places to buy 'halwa puri' in your city, don't worry. In this article we are going to reveal the best 'halwa puri' restaurants in biggest cities of Pakistan.
Islamabad
Islamabad has a number of great outlets offering some delicious halwa puri breakfast on Sundays. Here are some of them.
Punjab Samosa House – It is located in G-9 Markaz,                 Karachi Company.
Shikarpuri Sweets – It is also located in G-9 Markaz,                 Karachi Company.
Cheema & Chatha – This is a relatively new restaurant             located in Suleman Market, F-11/2.
Jamil Sweets – It is located in F-10 Markaz Islamabad.
Nirala Sweets – It is Located in Blue Area, Islamabad
Rawalpindi
In Rawalpindi, the undisputed king of halwa puri is the refreshment center in Commercial Market, Satellite Town. People visit this restaurant from different areas of Rawalpindi and Islamabad in order to enjoy delicious breakfast.
Lahore
When it comes to food, Lahore is the undisputed champion in Pakistan. There are innumerable places where you can enjoy excellent halwa puri in Lahore. Here are some of them.
Taj Mahal Sweets – Located opposite Badshahi Masjid in           Taxali Gate area.
Chand Sahab Sweets – Located in Taxali Gate area.
Karachi Sweets Shop – Located in Old Anarkali.
Butt Sweets – Located on McLeod Road, Lakshmi Chowk.
Sadi Halwa Puri – Located on Railway Road.
Karachi
Karachi, being the biggest city in Pakistan has a huge variety of Halwa Puri restaurants. You can find the expensive ones as well as some pretty cheap ones.
Tooso – Situated in Bahadurabad.
Cafe Clifton – Located in Clifton.
Baithak – Situated in Boat Basin.
Nasir Sweets – Fareed Square, Pakistan Avenue, Block 14 in       Federal B Area.
Dhamthal – Gulshan-e-Ali, No. 2, Ayesha manzil, Block-7 in       the Fedral B. Area.
DilPasand – It is located opposite Matric Board Office in             Block-A, North Nazimabad.
Mulla Ahmed Halwai – This restaurant is located inFirdous         Colony in Nazimabad No. 1 Chowrangi.
Dera – Main Boat Basin in Clifton, Karachi.
Peshawar
In Peshawar you can find great Halwa Puri in the old bazars of the city. One of the best places is Peshori Khalis Foods in Kuchi Bazar.
Sialkot
Hassan Din halwa puri is the most popular breakfast destination in Sialkot. This popular food outlet is located in the inner city near Allama Iqbal House.
Faisalabad
Faisalabad has many great Halwa Puri restaurants. You can find some delicious Halwa Puri in the Clock Tower area. Here are few other great Halwa Puri restaurants in Faisalabad.
Hafeez Puri House – D-Ground Area
Hafiz Nashta – D-Ground Area
Gujranwala
Gujranwala is known as the city of food lovers. In Gujranwala the Halwa Puri of Daal Bazar Market is quite famous.
Hyderabad
Hyderabad also has a number of great Halwa Puri restaurants. Khwaja Puri House is perhaps the most famous Halwa Puri restaurant in Hyderabad.
Have you tried any of these restaurants? Which is the best Halwa Puri Restaurant in your city? Do let us know in the comments section below!
Comments
comments