The Hope Diamond: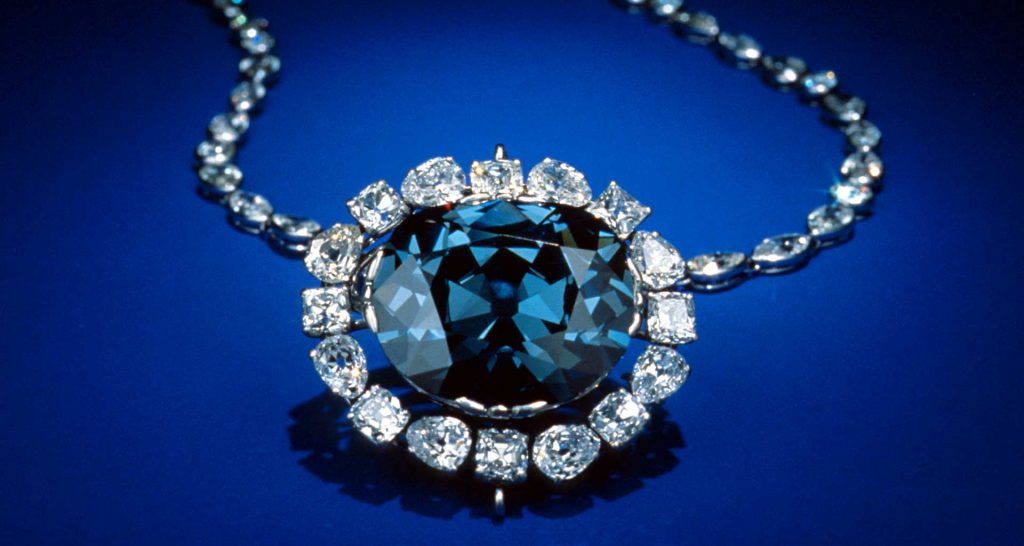 Weighing in at a massive 45.52 carats, the Hope diamond is among one of the most expensive jewelry pieces to be ever made. Distinguished by the massive blue diamond in the center surrounded by 42 additional white diamonds. It is estimated to be valued around $200-$250 million. It was first discovered in Golconda, India in 1666 and was acquired by King Louis in 1668 until it was stolen in the French Revolution of 1792. After exchanging multiple owners over the years it was eventually bought by Harry Winston in 1949 and donated to the Smithsonian Museum upon his death where it is still on display.
Peacock Brooch by Graff Diamonds: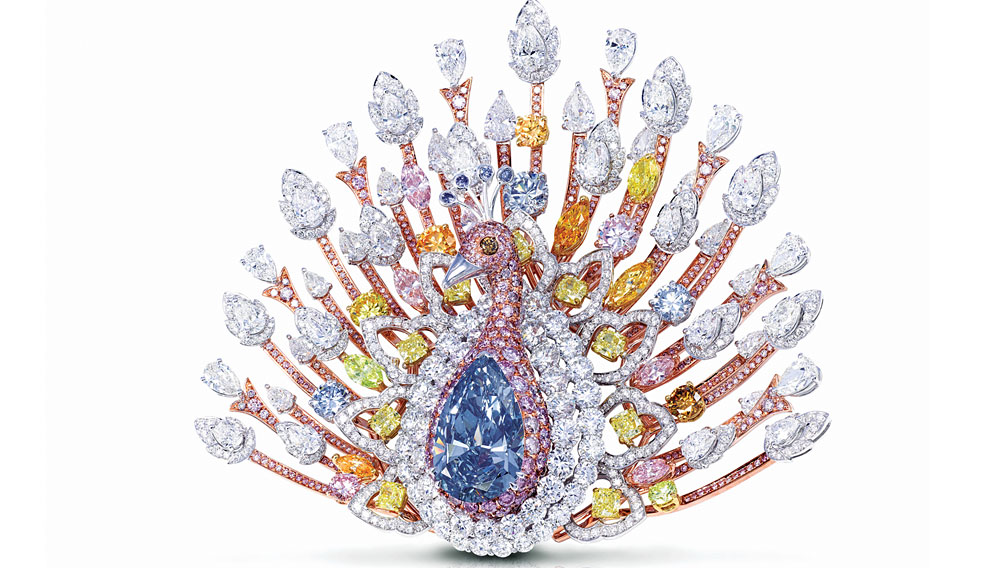 Designed and produced by Laurence Graff, founder and owner of Graff diamonds, more popularly known as the "King of Diamonds" unveiled the peacock brooch in 2013 at the TEFAF luxury art and antiques fair in the Netherlands. This peacock brooch has a total carat weight of 120.81 and contains an incredible display of beauty and extravagance with 1,305 gemstones and measures just over 10 centimeters in height. The center diamond is a pear-shaped fancy deep blue diamond that weights 20.02 carats on its own. Fanning out from the center of the brooch are white, yellow, pink, orange, and green diamonds. The blue diamond in the center can be removed and worn separately. The entire piece is worth $100 Million.
Wittelsbach-Graff Diamond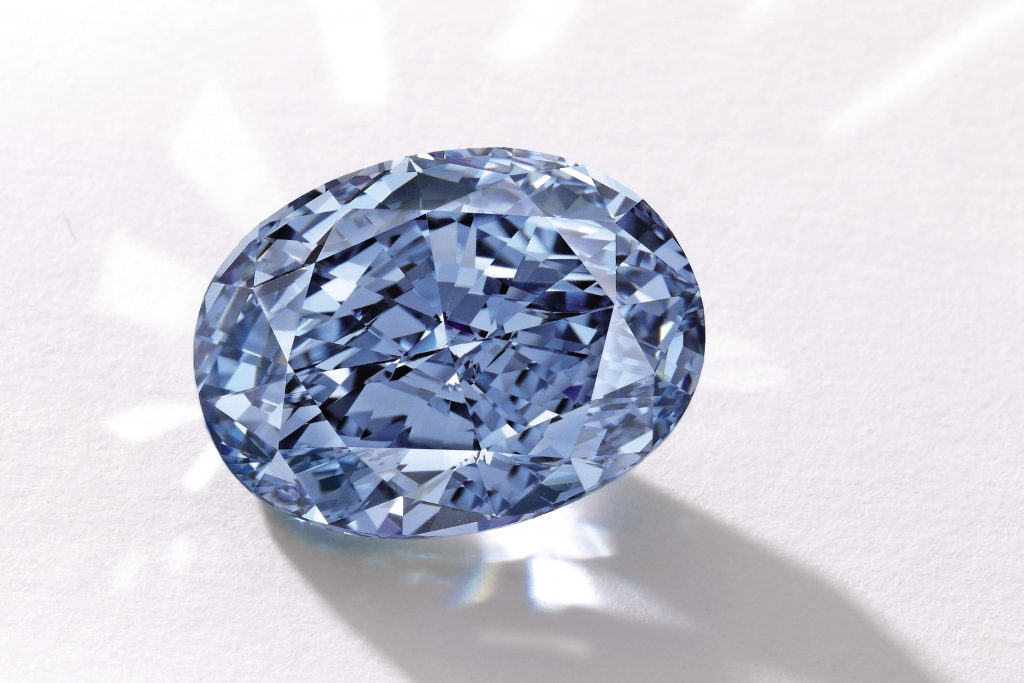 Discovered in an Indian mine in the 1600s, the 35.56-carat, fancy deep grayish blue diamond is rumored to have first been owned by King Philip IV of Spain and included in the dowry of his daughter Magarita Teresa upon her engagement to Emperor Leopold I of Austria in 1664. The jewel remained a part of the Austrian and Bavarian crown jewels for centuries documented in official portraits and paintings. In 2008, it was purchased by Laurence Graff for $22 million and controversially had it recut to its current state, a 31.06-carat, fancy deep blue, cushion cut diamond. The reason why the cut was so controversial was due to the 350 year history of the diamond. Although Graff got the diamond recut by 3 different people, the brilliance of the diamond and clarity got compromised. In 2011, the diamond was sold for over $80 million to its current owner, a member of the Qatari royal family.
Pink Star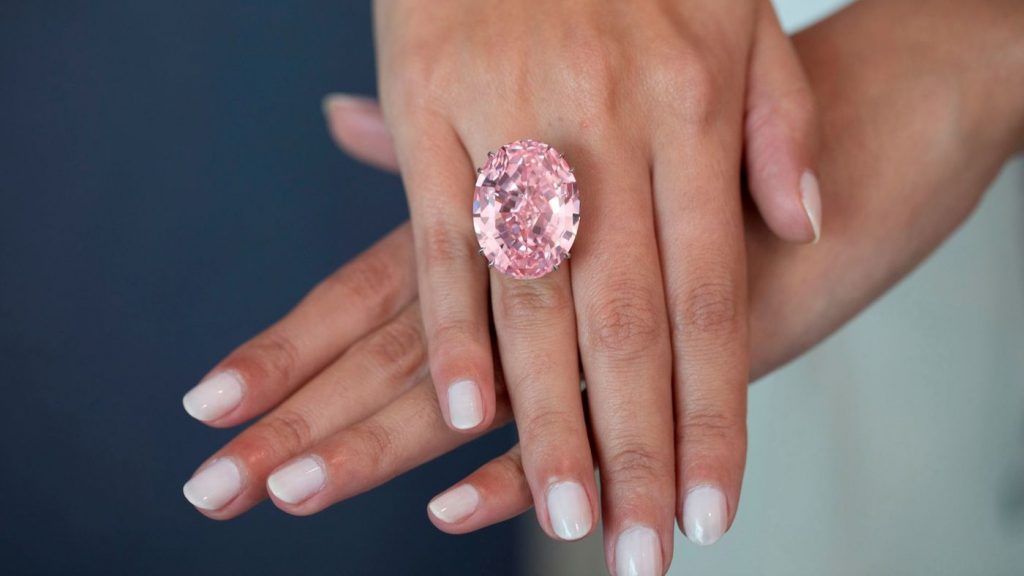 The Pink Star diamond became the world's most expensive gemstone when it got sold at auction for $71.2 million (£57.3 million). The Pink Star was mined in 1999 in South Africa, and weighed in at a hefty 132.5 carats before becoming the worlds largest, internally flawless and most vivid pink diamond. It is to date the most expensive auction item to have ever been sold in Asia and was purchased by a Hong Kong jewelry conglomerate. The company who acquired at did so in under 5 minutes of the items unveiling.
Oppenheimer Blue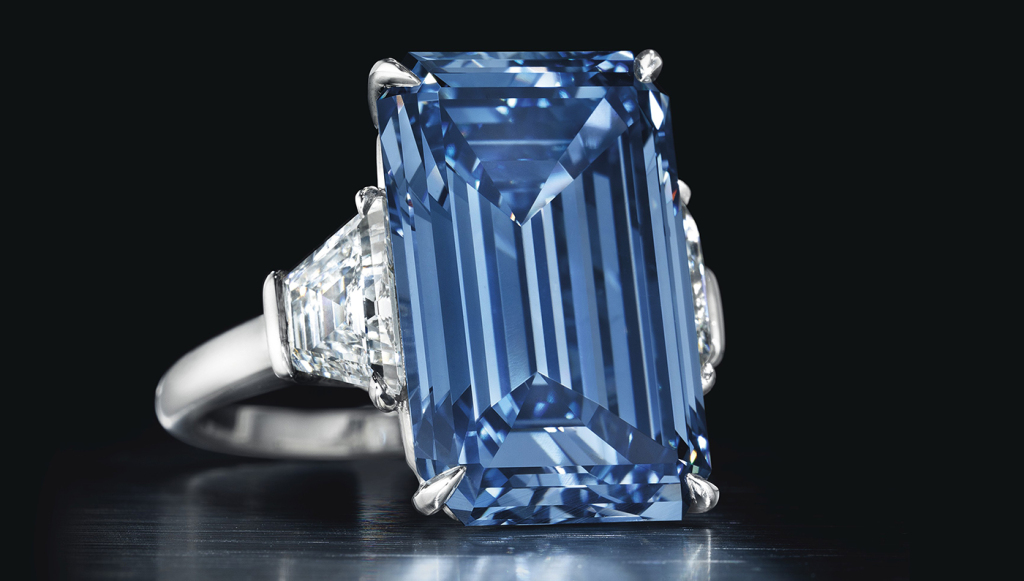 In 2016, Christie's an auction house, sold a sparkling blue, rectangular cut diamond at a hefty price of $57.5 million. It weighs in at a hefty 14.62 carats and was sold at a dramatic auction. The room broke into applause when the two callers on the phone ended the sale of the auction. The identity of the buyer is not know however.
L'Incomparable Diamond Necklace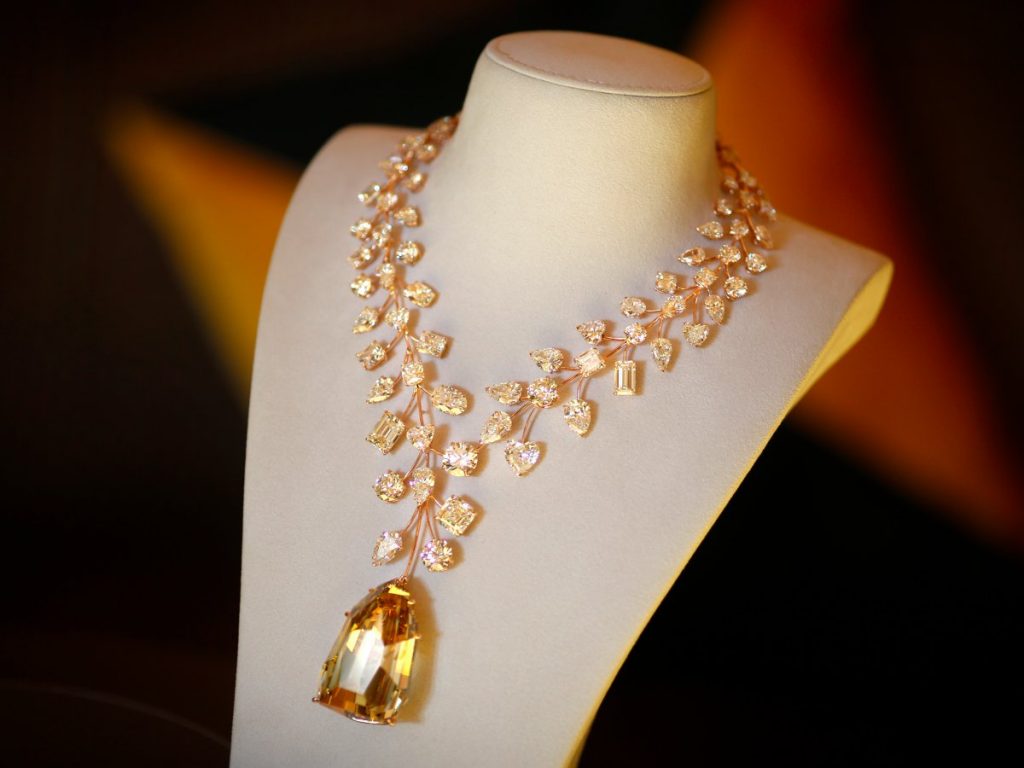 Known as L'Incomparable, this necklace created by Lebanese jeweller Mouawad features the world's largest internally flawless diamond. The 407ct yellow step-cut diamond is attached to a rose gold chain adorned with a further 91 white diamonds weighing more than 200cts, and arranged in an asymmetrical design that recalls the leaves of a vine. The magnificent centrepiece diamond was found by chance in a discarded pile of mining rubble by a young girl in the African Congo in the 1980s. It was exhibited in museums, including the Smithsonian Institution in Washington DC, before being incorporated into this stunning Mouawad necklace, which was first unveiled at the Doha Jewellery and Watch Exhibition in 2013. It is worth almost $50 million.
Blue Moon of Josephine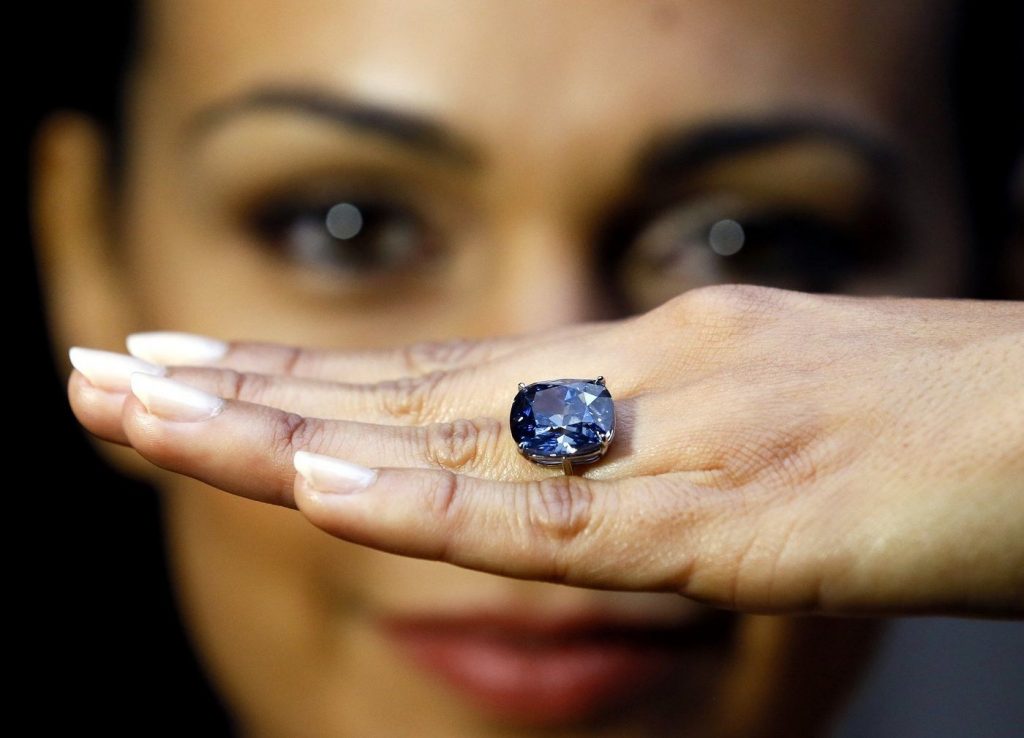 This hefty, 12.03 carats blue diamond was purchased by Hong Kong billionaire for his 7 year old daughter Josephine. The billionaire bought the diamond at a staggering price of $45 million. He was locked in a telephone bidding war for eight minutes for "Blue Moon" before the hammer went down, with the precious jewel staying within its pre-sale estimate of $35m-$55m.
Graff Pink
In 2010, this 24.78-carat, fancy intense pink diamond broke records upon its sale at auction for $46.2 to jeweler Laurence Graff. The diamond was originally owned by Harry Winston and kept in his private collection for decades, but Graff recut and renamed this diamond upon his purchase. The jewel is mounted in a ring flanked by Graff shield-shaped diamond shoulders.
Hutton-Mdivani Jadeite Necklace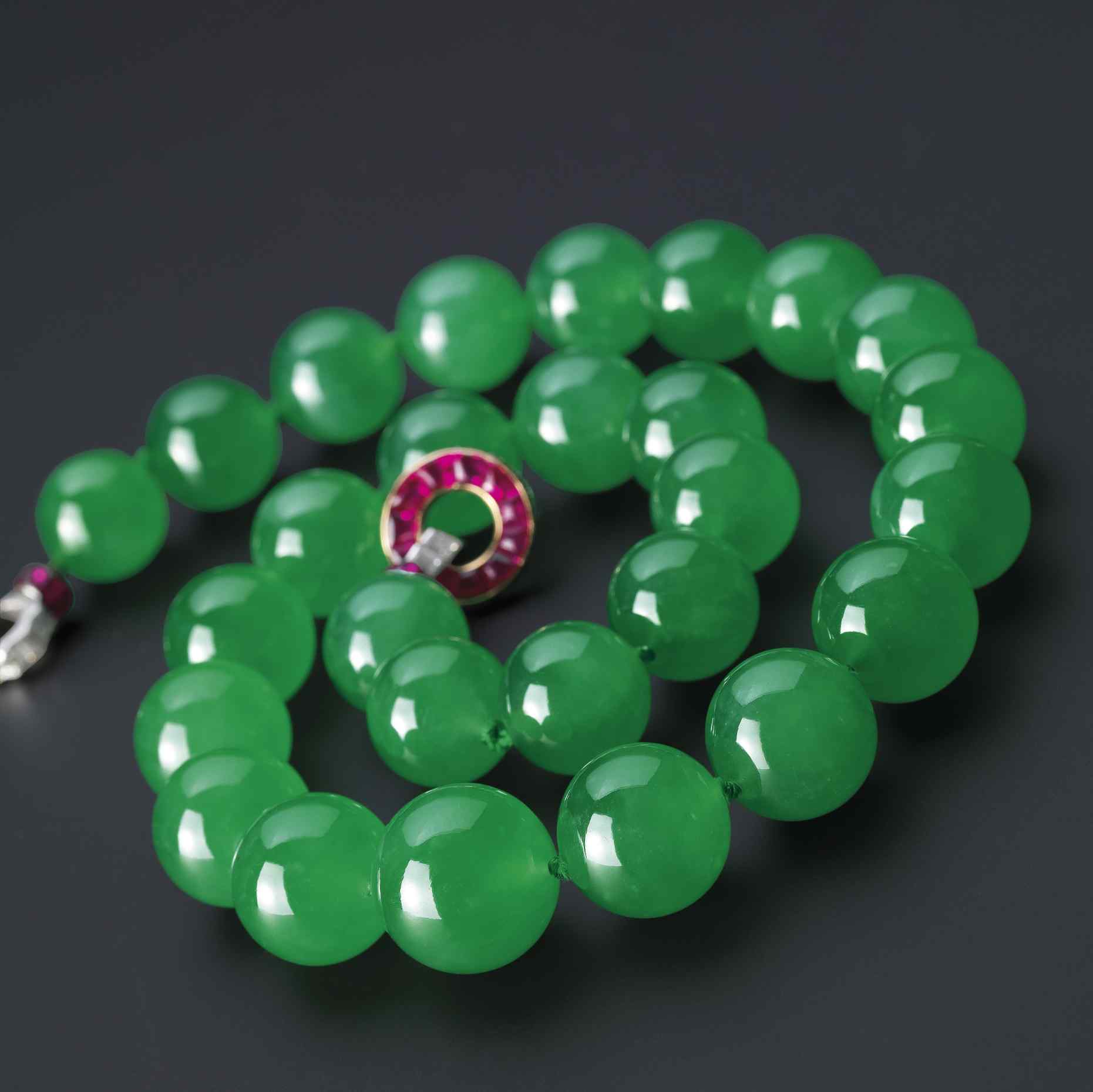 This Cartier necklace, made up of emerald green jadeite beads and secured with a ruby, diamond, platinum, and gold clasp, sold at auction in 2014 for $27.4 million to the Cartier Collection. This famed necklace was owned by Barbara Hutton, heiress to the Woolworth fortune, and Princess Nina Mdivani.
Chopard 201-Carat Watch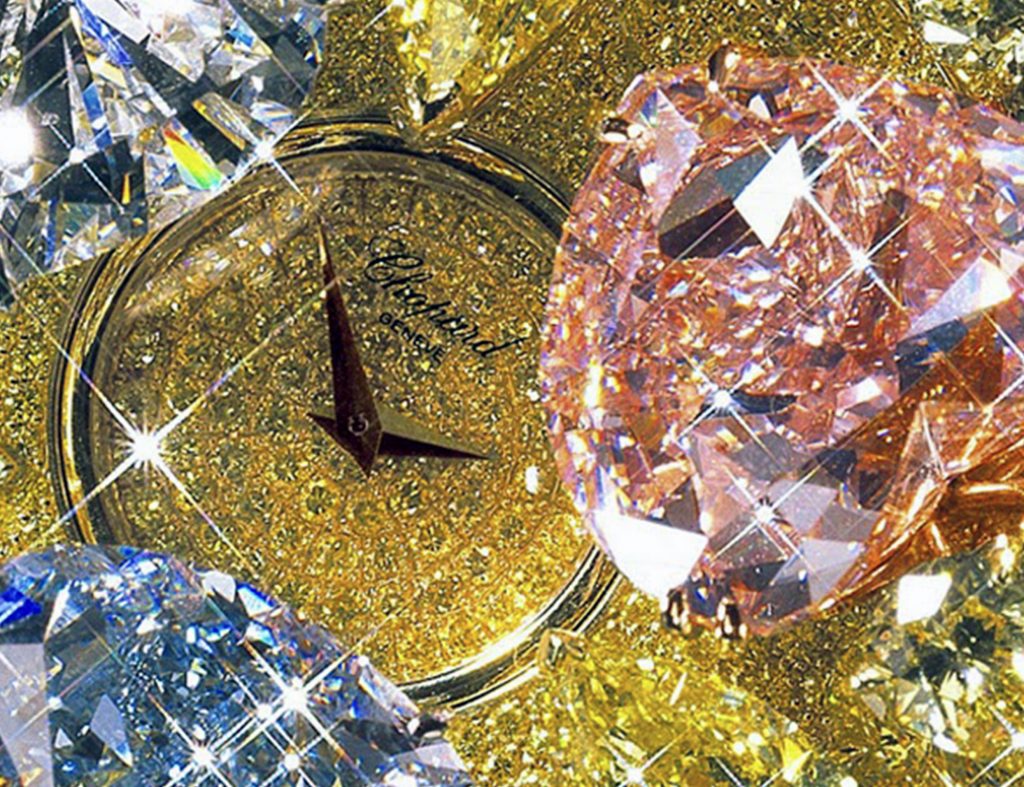 This dazzling Chopard watch contains a whopping 874 diamonds in all. The three largest diamonds, all heart-shaped and ranging in color from pink to blue to white, swivel apart to reveal the watch face underneath. This 201-carat watch is regarded as the most expensive watch in the world costing $25 million
Comments
comments